Engaged Learning
Becoming Sandra Torres
"Growing through learning. I never stop learning."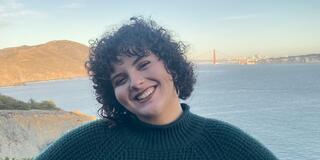 The MPH program is honored and fortunate to have students like Sandra Torres who bring their full selves into the program.
Sandra Torres, first-year MPH student, is a first-generation college student and the oldest sibling of an immigrant family. Her upgrowing experiences have imprinted in her a growth mindset seeded in a love for learning and her commitment to helping others.
With a BA in Anthropology and Sociology, which provided her with a holistic view of life, and her work experience as a community health worker, COVID-19 liaison, and now as a home rental assistant for the Marin County Community Development Department, Sandra is pursuing her master's to better understand and gain a comprehensive perspective of public health issues to become an agent of change.
"In class things are starting to make sense about public health policy, my community, and things we did in my previous jobs. I am gaining new perspectives and in the future, I look forward to becoming a public health officer who brings more education and resources throughout the community considering the different challenges. With my background and education, I will be able to become an agent of change."
Sandra has encountered a welcoming and diverse community at USF and is already enjoying her classes and the access to great faculty members and their work.
I am implementing what I am learning, and have classmates from different environments and countries like Ukraine and Pakistan who enrich the conversation with their points of view."
Sandra's life philosophy has nurtured her growth. She knows she is a strong and capable leader who can accomplish anything she decides to pursue. Sandra has a clear vision but then lets life happen too. As she said, "I take a step back, take a breather, if it is meant to be it will work out."
The School of Nursing and Health Professions welcomes Sandra and our fall 2021 students. You will make a difference!