Equipped to Lead and Succeed
Be A Catalyst For Change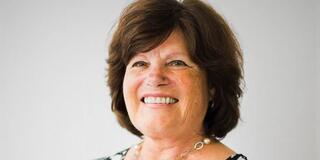 Many may know Professor Nancy Taquino DNP, RN, MSN, CNL at the School of Nursing and Health Professions. However, few people know that her journey and nursing career began at USF.
"I attribute the formation of my values as a professional nurse to my USF education. From the beginning, we were educated to see patients within the context of their families and communities."
Nancy carried these values with her into her first assignment in adult critical care followed by work at the Neonatal Intensive Care Unit (NICU) at Kaiser Permanente, San Francisco. As a new nurse, her experience was challenging and fast-paced, but she recalls how pleasantly surprised she was by the absence of staunch hierarchy. Nancy felt empowered by the mutual understanding and shared leadership between physicians and nurses and soon discovered the importance of developing initiatives that fostered innovation and change in nursing and healthcare.
"We planned our care based on assessing a patient's physical, psychosocial, and spiritual needs, and we were conditioned to see patients as people, not their diagnosis."
From her beginnings in high-intensity environments like the NICU, to her dynamic leadership in Maternal Child Services and regional quality improvement, Nancy experienced the joys and challenges of the nursing profession and did not rest on her laurels when it came to learning.
Transitioning Into Education
As a USF MSN graduate, Nancy decided to enroll in a year-long healthcare advisor program at the Institute for Healthcare Improvement (IHI) where she interacted with professionals from all over the world. Her extensive body of work includes applying and teaching the IHI model and developing innovative initiatives targeting life-threatening illnesses like sepsis.
Her step into academia began as Director of Education at Kaiser, where she partnered with nursing leaders to implement nursing theories and treatment practices. Their teaching materials and experiential work around relationship-based care, focused on a holistic view of patients, which included both medical and personal profiles.
This opportunity led Nancy to discover an issue faced by her peers and students in the field — that despite numerous opportunities to lead different field initiatives, many people who took the helm were non-clinically educated.
"I saw and felt that nurses and nurse leaders were perfectly designed to lead improvement efforts. We needed leaders who could navigate healthcare system transformation and have the advanced skills and evidence-based practice to lead improvements."

Nancy saw an opportunity to combine her positive experiences at USF with her time at Kaiser, and from there the RN-MSN program for Kaiser Nurse Scholars at USF was born. The Nurse Scholars Program creates a bridge between education and practice, where academia remains relevant to health care and equips nurses with an ethical and value-based foundation.
"We in academia need to stay close to practice. If we are not on the ground, we lack the street credibility needed to meet the needs of an ever-evolving health care system. This program is the perfect marriage because we match the need for innovation, scholarship, and excellence with real-world challenges."
Facing Future Challenges and Finding Solutions
Having transitioned into an advisory role in the RN-MSN Kaiser Scholars program, Nancy now focuses on teaching. And as a member of the teaching faculty, she's seen drastic changes in the field, particularly in patient-clinician relationships.

"I think patients expect much more from healthcare professionals. Today's health care consumers are more educated than in the past, but they also rely on the internet for medical information. As health care professionals, we counsel patients and help them discern the difference between fact and myth. Today there's much more of an emphasis on quality outcomes, metrics, and the financial implications of care. We need to keep healthcare costs down, but this puts a lot of pressure on nurses at the bedside. So as a leader, that's one of the biggest challenges — trying to reconcile difficulties and find solutions that maintain the healing aspect of care."

These days, Nancy notices that leaders operate behind the scenes, identifying gaps and coming up with solutions. On-the-ground implementation, however, depends on training and education, which she is excited to play a role in at USF.

"I have had the privilege of leading innovation and improvement in a variety of settings. I learned early on that nursing leaders need to lead from the back of the bus. We need to have a vision, inspire others to follow that vision, form a team, and then get out of the way. Magic happens when nurses and physicians are empowered to make changes that positively impact the lives of their patients. I'm thankful to USF for instilling these values in me and to Kaiser Permanente for the opportunity to practice them."
We at USF SONHP are honored to have Professor Taquino as a faculty member, leader, and friend.
The MSN program, sponsored by Kaiser Permanente Nurse Scholars Academy, emphasizes clinical nurse leader competencies including leadership, quality, safety, and evidence-based practice. The curriculum prepares nurses to lead interprofessional care teams at the micro-system (unit) level, supporting innovation, transformation and performance excellence in the delivery of compassionate care within complex macrosystems. Find out more about the program.