Engaged Learning
Why I Love My Major: Nursing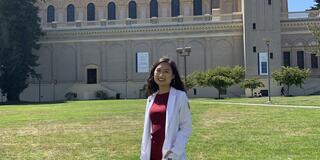 For Vanessa Ha '22, nursing is equal parts science and compassion.
Why did you want to be a nursing major?
I've always known that I wanted to help people and make an impact. When I was debating what my major would be, I leaned toward my interest in science and decided that the best way to combine it with my desire to help others was a nursing major. would be the best way to combine those two.
What has been the best part?
The people! The professors, tutors, and students in the nursing school are all so supportive. Even though it's a difficult academic route, the community has made me a better future nurse and person.
What would you tell an incoming first-year nursing major?
Reach out to your resources. Professors are so willing to help you understand. Also, remember to sleep. Good grades are important but you can't do that if you don't get your rest. Getting acclimated to university-level classes is difficult, but take care of yourself first.
How did you realize this was the right path for you?
I had the feeling it was right in fall semester when we started clinicals. We couldn't do a lot as early students, but what I could do was sit and talk to my patient. Sometimes we lose sight that patients are humans, and I felt like I was able to overcome that. I went into nursing for the component of service, and sitting with my patient, asking about her struggles and her life, reminded me of that.
Anything else?
Find ways to self-care and know that the way you care for yourself might be different from the way others do.