Equipped to Lead and Succeed
When Technical Innovation Meets Healthcare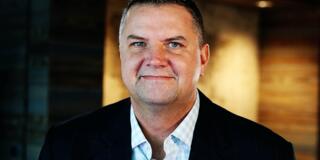 Austin Walsh's professional career has been anything but linear.
After graduating with a degree in history in the late nineties, Walsh started his career in technology because an opportunity presented itself. With minimal technical knowledge, Walsh began working in business development, but his curiosity with computers soon turned into a fascination with enterprise systems and infrastructure, operating environments, and data architecture. Today, after a professional career spanning 20 years in biotechnology, working for organizations like IBM and Microsoft, Austin is invested in health informatics and thriving.
"This is an exciting time to be in technology — data and its infrastructures are evolving rapidly, and there are little to no barriers of entry into the field," said Walsh, who is now a health technology leader.
Working for an organization and in an industry that understands the need for constant growth, Walsh wanted to further his professional development. He looked into how to stay competitive and raise his tech acumen — the MSHI program fit the bill.
Recalling his very first class with Professor Andy Nguyen, Austin noted that one of the principles of the program was learning how to learn.
"It is no longer simply about learning and using our studies, but also how to learn something that hasn't even been broadly deployed yet." he said. "Those are core computer science principles, and they have become very valuable."
An immediate outcome of the MSHI program has been an increasingly refined understanding of technical concepts, and a whole new appreciation for his tech co-workers and healthcare professionals.
"One thing I learned is to be empathetic to what people are doing on any given day, be it work or life stressors. It's interesting to work alongside and understand the mindset of people, specifically clinicians, and dig deep into what motivates them. Genuine interest goes a long way in helping both sides (tech and healthcare) connect."
At USF, Walsh's classes include clinicians who are looking to enter more tech-oriented roles and technical professionals looking to specialize in health and biotech, and he has really enjoyed the diversity of perspectives.
"The USF program is health-oriented and integrates elements of Computer and Data Science into its curriculum. The program is designed to encourage collaboration. We're supportive of one another. In our field, it's important to look at how we can lift each other up — that's the best way to build a successful team."