San Francisco Advantage
What Does Justice Look Like?
New mural on campus celebrates the city, invents tomorrow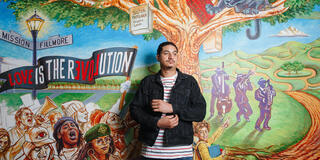 The new mural in the lobby of the McCarthy Center depicts the past, present, and future of San Francisco. It also reflects the ideas of Nico Bremond '14.
When Bremond was invited to help plan the mural, he jumped. "A group of us did activities and exercises to get a consensus on the design and the message of the mural," he said.
Their prompt: Imagine waking up to a just world. What does it look like?
In the mural, "people exit city hall and walk through a reimagined world," said Bremond. "There's a journey from left to right. On the left you see the tree of knowledge, books, fruit. You see the Ohlone. You see artists and activists — Audre Lord, Malcolm X, James Baldwin. You see musicians playing jazz in the Fillmore neighborhood, the Harlem of the West. You see the hills, the fog, the water, the coyote. This mural shows San Francisco as it was, as it is, and as we'd like it to be."
Team Effort
Derick Brown, senior director of the Leo T. McCarthy Center for Public Service and the Common Good, said the mural was a team effort. In June, McCarthy Center students, staff, faculty, and local community partners including Collective Impact, Bremond's employer, gathered to design the mural.
The design team worked with founder Susan Cervantes and artist Francisco Franco from Precita Eyes Muralists, a pillar of the San Francisco arts community. Franco painted the mural.
"He captured every idea we talked about," said Bremond. "You can keep looking and make new discoveries. There's a street sign that says 'Mission' and another that says 'Fillmore.' Those two neighborhoods have contributed so much, but they're under threat. Gentrification is real."
Bremond has seen the toll that gentrification takes. In his job with Collective Impact, he works with children, young adults, and families in the Fillmore/Western Addition. "I help them to succeed however they define success," he said.
He works as a mentor and an advocate, helping K-12 students to navigate school and people 18–25 with workforce programs and summer internships.
Community Commitment
Bremond worked at Collective Impact through service-learning classes while he was at USF. He was hired there full-time right after he graduated. At USF he majored in sociology and minored in African American Studies.
"At USF I struggled at first, but my professor, Stephanie Sears, and the Esther Madríz Diversity Scholars program helped me find my way and find my passion — critical race theory and grassroots community organizing," he said. "I did my capstone thesis on how public schools can be dangerous for people of color. The schools feed the penal system."
Bremond, who grew up in Oakland, said his professors helped him explore community organizations in San Francisco.
"There's a reciprocal relationship between USF and these organizations," he said. "Service learners in schools sometimes have a savior complex, but I learned at USF that the people in these communities are helping you just as much as you are helping them."
Derick Brown said that the new mural, in the McCarthy Center on the first floor of the Masonic Building, is open for viewing to everyone in the USF community and beyond. "Come see it any time we're open."
For information on when the center is open, contact mccarthycenter@usfca.edu.
Image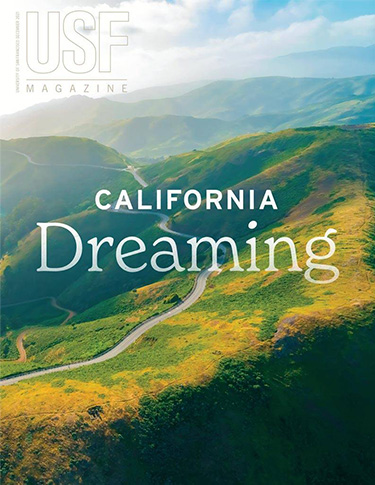 Featured in USF Magazine
This USF News story was published in USF Magazine, where you can find feature stories about university life, alumni Class Notes, and information about events at USF.