Engaged Learning
USF Welcomes Pulitzer-Prize Winning Poet Louise Glück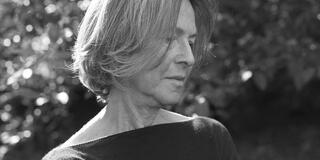 USF welcomed award-winning poet Louise Glück for the MFA Reading Series. The reading drew in a full house, with nearly 200 people in attendance to hear her speak and read poetry.
MFA faculty member D.A. Powell introduced Glück, describing her poems as "piercing and unsettling in their honesty," "art and wisdom arriving in the poetic form." Powell lauded the Glück reading and MFA Reading Series for celebrating artistic freedom and praised USF's "shared community of artistic excellence."
Glück read poems from six of her 11 poetry collections, including The Triumph of Achilles, The Seven Ages, Averno, and her most recent collection A Village Life, which contains Glück's first prose poems.
Prior to the reading, Glück met with MFA poetry students, who had the opportunity to hear about her experiences firsthand, ask questions, and get her advice. Stan O'Neill MA '18 said he appreciated the opportunity to meet with Glück in a small group. "She was really easy to talk to, really humble, and really honest. Her experience and mastery showed," he said.
Glück's long list of honors and awards includes the Pulitzer Prize, the National Book Award, and the National Book Critics Circle Award, among others. In 2003, she was named the 12th U.S. Poet Laureate. She is currently Rosenkranz writer-in-residence at Yale University and a visiting faculty member at Stanford University.
Now in its fifteenth year, the MFA Reading Series presents free literary readings and discussions that are open to the public. The series is co-sponsored by USF's MFA program and English department. All readings are held on USF's main campus. Last semester, USF welcomed Adam Johnson and Mary Karr.
On Apr. 12 and 13, the English department and MFA program will host the Emerging Writers Festival, which will feature readings and panel discussions by five up-and-coming writers of fiction, poetry, and nonfiction. This year's writers include Abeer Hoque, Lucas Mann, Sara Michas-Martin, Jill Talbot, and Naomi J. Williams.