Faculty & Staff Achievements
USF Faculty Featured at UNESCO International Summer School
School of Education Faculty Member Dr. Darrick Smith was Featured Speaker at UNESCO 12th International Summer School.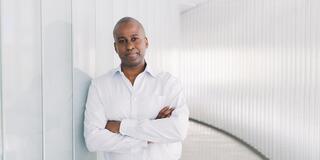 Dr. Darrick Smith, associate professor of leadership studies in the USF School of Education, provided a keynote address at the International Sociological Association Research Committee 25 Conference in September 2019. Smith was also a featured speaker at the prestigious United Nations Educational Scientific and Cultural Organization (UNESCO) 12th International Summer School program. The events were hosted at the Maria Grzegorzewska University in Warsaw, Poland. 
Smith's presentation for the UNESCO International Summer School, entitled "A Discourse of the Quasi-Safe in American Schools," was an honest and direct analysis of school violence and safety issues that plague many U.S. school campuses. Since 1999's Columbine High School shooting, media coverage of school shootings and bullying has increased the public's interest in examining approaches to school discipline and safety. Despite this, the realities of in-school violence and racially disproportionate outcomes persist and often go under-addressed. The result, explained Smith, is schools that are "quasi-safe," as marginalized populations and their most pressing issues are rendered invisible and neglected.
"I am extremely grateful to Professor Darrick Smith, from the University of San Francisco for accepting our invitation to share his expert knowledge in the field of social inclusion and educational leadership with the 12th International UNESCO Summer School fellows," says 
Dr. Anna Odrowaz-Coates, associate professor at the Maria Grzegorzewska University Poland and UNESCO/ Janusz Korczak Chair in Social Pedagogy. "Dr. Smith's presentation was so full of passion and so intense that the audience was captivated by that moment and multiple requests for links to the follow-up videos kept coming for several weeks afterwards." 
Keynote attendees were summer school participants and UNESCO fellowship recipients from Nigeria, India, Pakistan, Albania, Argentina, Brazil, Moldova, Russian Federation, Ukraine, Turkey, Iran, the United States, Belgium and Poland. Fellowship recipients participated in the international summer school to enhance their expertise in the field of children's rights, human rights, and ethnic and gender issues. "Professor Smith's contribution to the success of the 12th International UNESCO Summer School was immense," says Odrowaz-Coates. Smith served as an expert advisor and internal reviewer to summer school fellows who went on to produce twelve recently published research papers. 
"I have been honored to serve alongside Dr. Coates and my international colleagues for the last 3 years," says Smith. "Dr. Coates and my colleagues from the U.K., Australia, Belgium, and the broad UNESCO and International Sociological Association (ISA) communities have been nothing but gracious and supportive throughout our time together. It continues to be a wonderful learning experience and treat to work with, and under the tutelage of such a fine group of scholars and educators."  
r. Smith's work with UNESCO continues. He recently guest edited the post-conference issue of an international peer-reviewed journal that was published in February 2020.