Campus Life
The Games Must Go On
Dons join other WCC universities in video game competition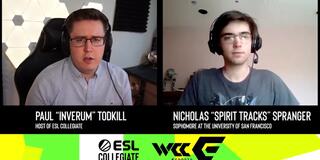 Most sports have been canceled or postponed, from USF baseball and the Boston Marathon to the summer Olympics. But for the Dons esports team, the spirit of competition lives on.
The team was one of three to join the West Coast Conference Gaming in Place challenge in late May, battling Pepperdine University and the University of the Pacific in the video game League of Legends.
Though the Dons ended up losing in the finals against Pepperdine, coach Robert Ishida '20 said the event was a great way to round out a season cut short by COVID-19. The regular season, with six competing teams, was stopped in March.
"Even though we didn't have our starting roster, everyone worked hard and encouraged each other to play their best," said Ishida, who graduated from USF's Master in Sport Management program this spring.
Status Boost
Daniel Kim '22, a psychology major who played in the Gaming in Place tournament, said participating in the WCC competition shows that "we have potential to make a great esports community at USF."
Computer science major Nick Spranger '22, another competitor, is already reaping the benefits of the community.
"The USF Dons Esports club is the biggest contributing factor to why I'm enjoying my time at this school as much as I am," he said. "It has helped me make friends, it allows me to play a game that I love at a competitive collegiate level, and it has given me a place that I feel at home in."
What Sports Look Like Now
It's a good time to be a gamer. The World Health Organization recently launched the #PlayTogetherApart campaign, encouraging people to stay home and game during the pandemic. (It's ironic, noted Ishida, that the WHO had previously tried to classify gaming as an addiction.)
Even traditional sports are turning to the virtual world, for the time being. ESPN and the NBA held the NBA 2K20 Player Tournament, with stars such as Kevin Durant and Devin Booker playing video game basketball for a $100,000 charity prize.
"It'll be interesting to see, once the world opens up, how many people continue to game and even take it a step further into esports," said Ishida.
Big League Goals
Ishida said his sport management professors encouraged his interest in esports.
"Every teacher was like, 'Esports is the next big thing. Esports is where the money is. Esports is the future of sport,'" said Ishida. The skills he learned in the Sport Management program, from marketing to event production, will easily transfer to the esport world, he said.
Ishida co-founded the Dons esports team in 2019. There are now 32 players over five rosters, competing in games such as League of Legends and Overwatch.
Though the team is currently a student organization, players aim to earn status as a club sport, as well as funding and amenities, such as a dedicated gaming room.