Diversity
The Fight for Ethnic Studies
Students in the master of arts in teaching program on USF's San Jose campus fight for Ethnic Studies to be implemented in the surrounding K-12 public schools.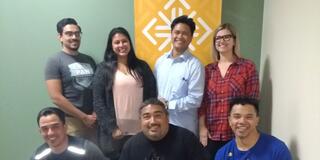 The students of the master of arts in teaching program on the University of San Francisco's San Jose Campus, alongside their faculty advisor Dr. Ruchi Agarwal-Rangnath, are fighting for Ethnic Studies to be implemented in the surrounding K-12 public schools. Ethnic Studies is a movement for curricular and pedagogical projects that reclaim marginalized voices and histories, create spaces of healing, critique structures of racism, and challenge the oppressive conditions that impact us personally and socially.
This past March, master of arts in teaching San Jose campus students Rosendo Santana Jr, Jahana Kaliangara, Amira Sabetic, Kyle Jimenez. Cesar Sanchez, Amiel Silvestre, and Carlos Villarreal III bravely shared their stories at the 7th annual conference of the California chapter of the National Association for Multicultural Education hosted by University of San Francisco. They are a group of first-generation college students who are children of fieldworkers, immigrants, and refugees.
In addition to sharing their stories, they each boldly explained the importance of why ethnic studies is so important in our K-12 schools. Carlos Villarreal III asserted, "Ethnic Studies is important to me because it saved my life. Growing up in East San Jose, I didn't know that there is power in knowing where I came from. I didn't know there is power in knowing who my ancestors were and what they accomplished. I didn't know that there is power in knowing language, traditions, and culture. There is power in Ethnic Studies." Likewise, Rosendo Santana Jr. argued "ethnic studies converted our shame and embarrassment into strength and pride and taught us that we not only owe it to our parents to succeed, but we owe it to ourselves." In addition, Jahana Kaliangara shared, "I grew up in East Side San Jose where I couldn't play outside or fundraise for my school by going door to door. Growing up, I felt like I did not fit in anywhere. I wasn't full Mexican, I wasn't full Indian, I was brown to so many people. I value ethnic studies because I want my students to connect and find a reflection of themselves in our schools. I want our future children to know, live, and breathe diversity in their lives." To Amira, "Incorporating ethnic studies in the classroom is important because it paints a picture of our world, expands our knowledge about various ethnicities, and potentially creates a space for students to make connections."
Many of the students have been involved in teaching ethnic studies at their schools, advocating for ethnic studies in their communities, and also developing a research brief as a tool to advocate for ethnic studies in surrounding K-12 schools. Amiel Silvestre designed the artwork, Justice: Fire and Water, for the conference program and also created a flyer to distribute to local districts and schools advocating for social justice.
The grit and strength of these seven students and their work to advocate for Ethnic Studies is inspirational, as they reflect on and leverage their positionality as a tool for teaching ethnic studies in the classroom. As Kyle Jimenez shares, "we all come from different backgrounds, we each have different stories to share, and it is through a collection of these various experiences that make up the culminating strength of our cohort to work together in order to change the world." These students exemplify hope for the type of teachers we need in the classroom – teachers who are able to build upon students' perspectives, develop students understanding of the world and their place in it, create caring academic contexts, decolonize and humanize the curriculum, and actively work to change what is unjust.
Says Cesar Sanchez, "Ethnic Studies can help students like me find our identity and roots, while waking up an urge to find your truth. It helps students understand their "cultura" and the struggles that your ancestors have gone through to be accepted in this society. I believe that in that process, you not only become a better student, but begin to understand your role and responsibilities to your people."