Equipped to Lead and Succeed
The Boba Businesswoman
How a USF student's boba-themed Kickstarter went viral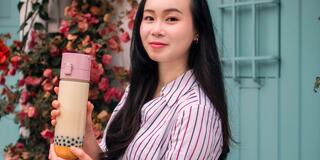 Galina Lang '21 was working as a boba barista when she had her $60,000 idea.
Boba, a sweet Asian beverage also known as "bubble tea" for the chewy tapioca bubbles found at the bottom, is often sold in single-use plastic cups with wide plastic straws to suck up the tapioca. While there are some reusable containers on the market for earth-conscious boba lovers, they often aren't very convenient or spill-proof.
So Lang decided to create her own boba bottle, workshopping the plan in her USF classes. Her fundraising efforts went viral in fall 2019, raising nearly $60,000 in two weeks through Kickstarter, a crowdfunding platform.
And while the pandemic put a damper on her plan to launch her business —BobaMate — in June, Lang has adjusted and planned a soft launch for early September instead.
The Birth of BobaMate
Lang developed BobaMate in a series of classes at USF. She first started exploring the problem of single-use plastics in her Written Communications class. The then first-year student was assigned to write a paper on a social issue, and she chose plastic pollution.
"I've always been curious about why plastic is bad for the environment," she said. "I never took the time to delve into the topic before writing the paper."
At her boba shop, Lang noticed some customers carrying reusable boba containers, but they were often bulky tumbler designs, prone to spilling. She started thinking about a product that might serve not only as a boba holder but also as a spill-proof water bottle.
The advertising major decided to take on an entrepreneurship minor to learn more about starting a business based on her idea. In spring 2019 she took Creativity, Innovation, and Applied Design, where she workshopped her design concepts to classmates. She eventually settled on a sleek 25-ounce container with a built-in straw.
In her next entrepreneurship course, Internet Business Applications, Lang teamed up with classmates Leslie Grande '21 and Calvin Lau '20 to conduct a user study, create a marketing strategy, and develop a website concept for her product, called BobaMate. A student at the USF School of Law helped her trademark the name "BobaMate."
"The course goes through the entire business process: ideation, to prototyping, to user experience research, to website development and app development, to digital marketing and analytics, to final launch of the product," says Professor June Y. Lee. Lang said she gives special thanks to Lee, who gave her "endless amounts of mentoring."
Creating a Company That Cares
Lang launched her project on Kickstarter the day before her final presentation in Internet Business Applications, using the digital marketing skills she'd learned to hone her social media plan and to create online ads. After she reached out to the media, her fundraising page went viral.
Lang worked with a manufacturer to create BobaMate bottles for her Kickstarter supporters and her online store. She has another year of classes ahead and is still working as a boba barista.
Lang says her mission as an entrepreneur is influenced by USF's mission and values, as well as by her upbringing and the Catholic high school she attended.
"I've been interested in building and creating things ever since I was a kid — and wanting to help the world become a better place," she said. "Even the smallest actions can create a ripple effect."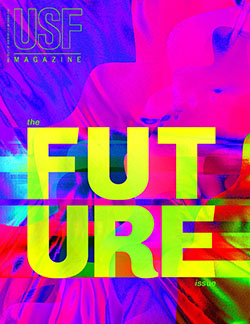 Featured in
USF Magazine
This USF News story was published in USF Magazine, where you can find feature stories about university life, alumni Class Notes, and information about events at USF.