Faculty & Staff Achievements
Teaching Controversial Issues
Teacher Education Faculty Receives Spencer Foundation Grant for Communicating Research Findings from Cross-National Study on Preparing Preservice Teachers to Teach Controversial Issues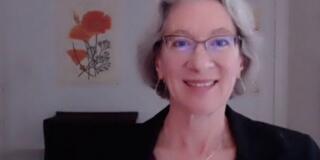 "I began my career as a social studies and English-language arts teacher and became interested in multicultural and democratic education," says Judy Pace, professor of teacher education. "I have had the privilege of visiting classrooms and methods courses in the U.S. and internationally. And I have learned from fantastic educators and pre-service teachers doing this important work."
Pace received a $9,500 Spencer Foundation Research Communication Grant based on her cross-national study on preparing preservice teachers to teach controversial issues, which was funded by a $50,000 Spencer Research Grant. The first of its kind, the study explores how university teacher educators equip preservice teachers with conceptual and practical tools to teach controversial issues and how novice teachers apply these tools in classrooms. The study is also the basis for Pace's new book, Hard Questions: Learning to Teach Controversial Issues.
Spencer Foundation Research Communication Grant
The Spencer Foundation established the Spencer Research Communication Grant to support the dissemination of academic research findings to non-academic audiences so they can have a real impact. Pace is using the funds to share her research through professional development that includes webinars, podcasts, articles, seminars, and workshops. "My main audiences are teachers and teacher educators, but I also want to reach school leaders and parents," says Pace. "There are a lot of misconceptions [about teaching controversial issues] and there's a lot of fear. I'm hoping my research can disrupt some of that."
Research for this Moment
Pace's research is particularly timely as the world navigates a global pandemic and the United States faces extreme political polarization. State legislatures are constricting the teaching of anti-racist curriculum. "Teaching controversial issues is connected to inquiry-based teaching, critical media literacy, and uncovering difficult histories," says Pace. It engages students in exploring competing perspectives on significant questions related to public policy, history, and morality, such as: How should schools navigate the coronavirus pandemic? Does enslavement of human beings completely negate the founding fathers' contributions to democracy? When and how should reparations be paid to the descendants of enslaved people? What is a fair refugee policy? and so on. "It cultivates civic agency, dialogue across differences, and deeper understanding of what's going on in our world."
Driven by a desire to equip practitioners to navigate this moment, Pace has been hard at work. In response to the January 6, 2021 attack on the U.S. Capitol, Pace collaborated with social studies educators and researchers from across the country for a panel discussion called "Teaching Beyond January 6th." During the event, panelists shared strategies for teachers to discuss the insurrection and related issues with their students. Topics included methods for leading discussions in moments of crisis, how to talk about the role of race in the insurrection, and exploring the impact of social media.
In February 2021, Pace partnered with the USF Teacher Education Department to lead a professional development workshop about teaching controversial issues in the classroom. The 45 workshop participants were mentor teachers from across the Bay Area. Later that month, Pace partnered with the University of Sarajevo to bring her research to the global community. She led a virtual workshop for the Peace Education Hub, which focuses on peace pedagogy in higher education. In April 2021, Pace was an organizer and featured panelist for the School of Education's Center for Humanizing Education and Research (C-HER) panel event which focused on tools for building empathy, critical thought, and agency through education.
In May 2021, Pace was featured on the EdSource podcast, This Week in California Education, in a conversation with Pedro Noguera, dean of the USC Rossier School of Education. During the episode, Pace and Noguera discussed the importance of teaching controversial issues in a time of turmoil. Pace was also featured on the Visions of Education (link includes an infographic displaying Pace's framework for reflective teaching of controversial issues), Education for Sustainable Democracy, and Fishing for Problems podcasts. She will be conducting an interactive seminar in June for the Five Nations Network, an organization that advances citizenship education in the U.K. and Ireland, and she is collaborating on a set of events that will hopefully take place in Northern Ireland and England during this next academic year. She is also collaborating on a webinar for the National Council for the Social Studies this fall.
Pace will be piloting a new course this summer at USF called Teaching Controversies, which invites master's and doctoral students to read scholarship, create a pedagogical toolkit, and develop and teach lessons on controversial issues.
Thanks to the Spencer Research Communication Grant, Pace has been able to connect her research to a diverse group of audiences and settings, and she's just getting started. "I'm finding that I love working with colleagues in different locations, both in the U.S. and internationally," explains Pace. "It's exciting to think that my work can be applied by educators in many different settings."