Equipped to Lead and Succeed
Success stories: MSN for Registered Nurses Online program - Rose Geronimo
Rose Geronimo, MSN, RNL, CNL, Director of Clinical Operations in Cardiovascular Health, Stanford Health Care; USF RN-MSN Online Alumni, 2017
Rose Geronimo, MSN, RN, CNL is currently the Director of Clinical Operations in Cardiovascular Health at Stanford Health Care. She graduated from USF in 2017 from the Online RN-MSN program and we recently caught up with her to hear about her USF story and what she is up to now.
How did you get to where you are today?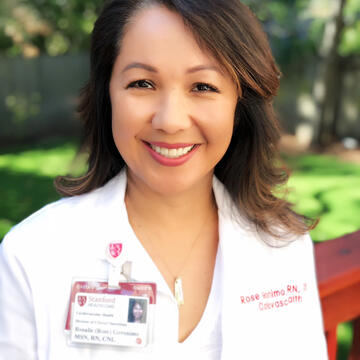 When I first graduated with my Bachelor of Nursing (BSN), I thought I wanted to be a Nurse Practitioner in pediatrics. I spent many earlier years of my career focused on bedside nursing and didn't think that I would enjoy leadership roles. However, when I was offered a leadership role, I thought I would take a leap of faith and decided to pursue a different avenue. Little did I know as to how much I would enjoy this role and haven't looked back since! Throughout my career, achieving an advanced degree has always been a goal of mine. I found myself surrounded by peers who had MBAs, DNPs and MSNs and I felt like I was missing out. By this time I was a Clinic Manager and decided to take the plunge, enrolling myself into the USF Online RN-MSN program. Achieving my RN-MSN has been such a fun journey, and shortly after I graduated, I enrolled into the Executive Leader Doctor of Nursing Practice (ELDNP) program as I wanted to continue my education at USF.
How did the RN-MSN program help you?
I realized very quickly how much knowledge I already had from performing as a Clinical Nurse Manager. This meant that the program complimented what I was doing at work, and gave me confidence in what I was already doing. Also, 6 months following my graduation from the program I was promoted to Director of Clinical Operations. I believe the MSN program gave me new insight into thinking and evidence based practice, and pushed me into doing things differently from before. I believe this helped me in achieving my promotion.
What made you choose USF?
Having grown up in the Bay Area, I know the great reputation that USF has in the nursing field. Stanford Health Care also hires many graduates from the university, so I know that the industry considers it as a great university too. In addition, the Jesuit values are very important to me, having gone to Catholic school growing up, and their educational values aligned with my own.
What did you like about the online feature of the program?
Even though it was online, I didn't feel at a disadvantage vs the on-campus students. I would still have regular one-on-one contact with the professors via zoom, and also with other members of my cohort. I found the interaction with the cohort useful and important as it helped with group projects I also came to understand what strengths and skills other people had to offer. Other students would also reach out for advice, so even though we were remote, we could still turn to each other if we needed help. Another great thing about the online program was being able to see my upcoming deadlines and plan accordingly. I was able to go on a 3 week vacation and not have to do any coursework as I had been able to submit my work beforehand!
What were some of the challenges that you faced?
Before enrolling in the program, my biggest fear was not succeeding - would I be able to juggle everything and not only keep up with the coursework, but be good at it too?
I had heard horror stories that going back to school would consume all your time and one would have no time for anything else. But that was not an option for me; I had a full time job, a family and children, I wanted to stay healthy and exercise and also have down time with my friends and hobbies. So I made sure that I was organized; I created a schedule and prioritized what I needed to get done and I stuck to it. That way, I could fit in the coursework around the other important aspects of my life. Also, this kind of mindset and focus is a skill required for leadership and is something I was doing anyway.
What has been the main learning outcome from the program that has been beneficial to you?
Evidence Based Practice has definitely been the most useful learning to my role. Before, I would just do things, based on being told to do things; I wouldn't question why or the reason behind it. The program taught me to think in a different way; I think deeper and question the situation and look for data and evidence to support my decisions.
How did you complete your practicum hours?
I was able to complete my hours as part of day to day job, which I found extremely useful. If you are already performing in a leadership role, I would recommend using your practicum hours as part of it. I also had a student from another cohort perform clinical hours with me as part of her practicum hours, so there are different options available too.
What advice would you give to students who are thinking of pursuing an advanced degree?
Whilst I definitely recommend pursuing a further education, I think it's beneficial for students to get some industry experience before enrolling in the online MSN at USF. It helps to have experience when discussing some topics, such as leadership and can make the learning easier.