Equipped to Lead and Succeed
Success stories: MSN for Registered Nurses Online program - Cynthia Huff
Cynthia Huff, MSN, RN, OCN, CRNI, CNL, Home Infusion Coordinator with Sutter Care at Home; USF RN-MSN Online Alumni, 2017
Cynthia Huff, MSN, RN, OCN, CRNI, CNL has been a nurse for 38 years and is currently a Home Infusion Coordinator with Sutter Care at Home. As part of her role, she works with patients and the pharmacy to assess, teach, and coordinate the administration of home intravenous medications prior to patient's discharge from the hospital or other inpatient setting. Cynthia graduated from the RN-MSN Online program and we wanted to hear her USF story.
What made you consider taking this program?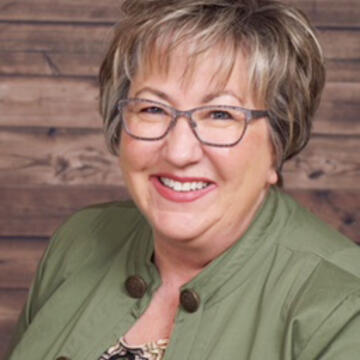 I had both a personal and professional desire to contribute to healthcare in a more meaningful and purposeful way. From a personal standpoint, I had always wanted to continue my education, but it wasn't until my granddaughter began preparing her college applications in high school, that it made me seriously consider my own desire for higher education. My grandchildren have always looked up to me, and I wanted them to see that earning a degree was possible at any age.
Professionally, as an older nurse, I knew that I wouldn't always be able to continue as a nurse who was on my feet all the time, doing lengthy shift hours. I wanted to find an alternative that would still allow me to be in the industry that I loved. This program offered me the opportunity to learn and grow professionally, and it also provided me access to nursing professors of whom I greatly admire in regards to their dedication and commitment to nursing practice and also to humanity.
Why at USF?
When I was researching different online courses, one USF core value "learning as a humanizing, social activity rather than a competitive exercise" really stood out and meant something to me.
I didn't want to have to focus on or worry about a competitive environment in graduate school; I wanted to learn from others and share my knowledge and life experience and know that I could contribute to others as a social skill, as well, to the next generation of nursing students.
What would be the top three learning outcomes from the program that have made a difference to your everyday job?
First, being able to use proven, concrete, scientific methods for problem-solving trends in healthcare that affect my patients and work life. Also, the program has refined my understanding of how important nursing research is for evidence-based practice, and how to use this skill to improve patient care. Finally, the program helped improve my writing skills, so I am able to communicate in a more meaningful way. In the healthcare industry, it is important to reach the right audience in order to bring awareness and change to difficult issues facing our country today, including both social and environmental issues.
Has anything changed in your job/role as a result of completing your degree?
Absolutely! Through the program, I have been able to present my capstone project via webinar and reach a national audience. This has enabled other people to learn about my work. Since then I have received opportunities to speak at other events and most recently, became a peer reviewer for a national nursing magazine. I have also taken on a more proactive role in education and mentoring my peers. In particular, a Skilled Nursing and Rehab Center has provided opportunities for me to teach their staff about issues surrounding hazardous drug administration in their setting.
In addition, I am functioning in my organization at a much higher level than before graduating. I regularly liaise with decision-makers, and that is fulfilling to me. I have also joined several national and international nursing organizations that promote nurses to work at their fullest capacity.
What did you value about the online teaching style of the program?
I really liked the online teaching style and I definitely didn't feel at a disadvantage by taking online courses. My professors were engaging and I loved working with my peers from across the country on various projects. It was no different to me than sitting alongside other nurses in a classroom setting. Also, the quality of the curriculum and the teaching was outstanding. I even had colleagues switch over to the RN-MSN program at USF because they realized that they were not receiving the same standard of education in their existing programs.
While it may not be for everyone, online education worked perfectly in my lifestyle. The benefits were that I could tailor my assignments to my real life-work situations, and I could maintain a full-time work schedule.
How did you complete your practicum hours?
I chose a particular subject that was relevant to my own workplace and got approvals from my organization to implement the change within my own microsystem. This was very rewarding, and it was a good time to show off my leadership abilities in a constructive way.
What would you say to future students who are considering a nursing program at USF?
What I learned after many years of nursing practice is that nurses must consider that we are lifelong learners. Whether it be through certification in your field, staying up-to-date with current issues and trends, considering higher education, or simply being engaged to represent what you feel in your heart. It is important for our profession that we continue to demonstrate our value and commitment to better patient outcomes.
This program does not tell you what to think, it teaches you how to think for yourself! What you do with it is up to you. Don't think for a minute that online education is less effective than the classroom. It isn't! But, it all depends on your own internal desire to become a better nurse for those in your care.