Research
Student Champions Marginalized Communities During Work Abroad
Through the Latin American Studies program, Sonia Hurtado Ureño '17 has found a sense of belonging while cultivating a passion for Latinx and other historically underserved communities.
Although Ureño started at USF as a biology major, she switched to Latin American Studies after taking her first course in the program, "Immigration and Citizenship in the U.S.," where, she said, "I saw the faces of my friends and family who had crossed borders for a better future."
"Through my conversations with my mentors and these classes, I acquired the language to describe many of my experiences as a low-income, first generation Latina in the U.S. I began to understand the larger structural forces that drive many people, like my family, to migrate and the forces behind racial, gender, economic, environmental, and educational inequalities in the Latinx community."
Creating a community development project in Bolivia
Inspired to learn more about social justice, Ureño applied to USF's yearlong Privett Global Scholar program, which gives students the opportunity to participate in internships with grassroots organizations abroad and implement a community-based sustainable development project.
Ureño traveled to Cochabamba, Bolivia, where she worked with the non-governmental organization Aldeas Infantiles SOS. This organization provides health services, education, kinship, and other tools for children facing challenging circumstances and aims to strengthen their families and communities to help prevent abandonment and social neglect.
For her sustainable development project, Ureño collaborated with Aldeas Infantiles SOS to create and facilitate workshops on social leadership, sexual education, and non-violent intra-family relationships. They designed the workshops specifically for children and their guardians to promote intra-family dialog.
Ureño said an essential part of the project was the workshop inventory, which provides the necessary resources for educators, facilitators, and other community members to continuously facilitate these workshops, adapt them as needed, and ultimately continue educating their communities well into the future.
The legacy of racism in academia
During her ten weeks in Bolivia, Ureño became deeply interested in the country's educational reform that aimed to decolonize current curriculum.
Approved by Evo Morales — the country's first indigenous, democratically elected president — the reform (called Avelino Siñani-Elizardo Perez) aims to address the nation's legacy of institutionalized racism in academia by creating an inclusive space for its indigenous people to persist. Now, more indigenous people are employed in positions of power and the educational curriculum teaches indigenous languages, including Aymara, Quechua, and Guarani. Ureño added:

I became extremely invested in exploring how Bolivia's educational system has moved from a euro-centric pedagogy to a decolonized one, where the voices of those who have been excluded from spaces like academia can finally be valued, particularly those of indigenous groups.
So while she was working with Aldeas Infantiles SOS, she took it upon herself to also do a research project. In addition to studying surveys and newspapers, Ureño interviewed her co-workers, host family, and other community members to understand the intricacies involved in the reform and whether it had been effective in meeting its goals.
Recognition for her research abroad
Ureño said her interest in Bolivia's education reform was inspired by courses she took with Professor Elisabeth Jay Friedman —"Global Service Learning Development Seminar" and "Economy of the Developing World" — which provided her with the country's historical, economic, cultural, environmental, political, and social context in preparation for her work abroad.
"It is very important to understand development from a colonial perspective, in that Bolivia was claimed by Spain, like most countries in Latin America," she said. "The educational establishment was created for and only accessible to those with racial and economic privilege. Education as an institution was not a space where indigenous and black folks were welcomed or could afford to attend."
Ureño wrote her final paper for the Global Service Learning seminar on her research of Bolivia's education reform: "Bolivia's Educational Revolution: Moving a Country Forward through Indigenous and Modern Epistemologies." With this paper, she won USF's annual Latin American Paper Prize contest, which started more than ten years ago. A panel of faculty members on the Latin American Studies program advisory board selects winners anonymously.
The award exists to encourage and honor students who have taken time to study and write about Latin America; Ureño added that it also validates the insights and scholarship of individuals from historically marginalized communities on the struggles they continue to face. It provides a platform for minority students at USF to be heard, celebrated, and to feel a sense of belonging, when, as Ureño says, their voices and stories have so often been excluded from the academic sphere.
Winning that recognition was a personal accomplishment and an accomplishment for those who have helped me get to where I am today. These kinds of contests offer students an opportunity to feel validated by academia and discover their talents as researchers.
She is particularly grateful to Professor Friedman, who, she said was very supportive and instrumental to her understanding of development and dependency theory, which were key to her paper.
The importance of ethnic studies programs
Reflecting on her experience in Bolivia, Ureño draws a connection between the institutionalized racism that's present in both its educational system and ours.
"In the Unites States, education is mainly structured to tell and validate the knowledge and cultural capital of Anglo-Americans. Most subjects are taught through a lens that excludes the contributions of people of color. It took thirteen years before I learned about my community in a classroom setting. It was then that I realized that people like me had been omitted from the curriculum," she said.
What I really appreciate about the Latin American Studies program is that it creates a space in academia where my community and I belong.
Perhaps not unlike Bolivia's attempt at educational reform, USF's ethnic studies programs are an effort to combat institutionalized racism in academia, but Ureño believes it can be pushed further. She would like to see further support for and development of ethnic studies programs, including Latin American Studies. She believes courses offered through these programs should not just be an option, but a requirement for all students to understand how power, privilege, and economics contribute to the inequities that marginalized communities face.
"Interdisciplinary ethnic studies programs like Latin American Studies are so important because the curriculum is relevant to the lived experiences of students who have been historically excluded in academia," she said.
After she graduates next year, Ureño intends to continue championing the Latinx community. She'd like to work with a local non-profit organization dedicated to serving communities of color and attend graduate school for a program in ethnic studies. She hopes to become a professor who contributes to and demands inclusive spaces in academia.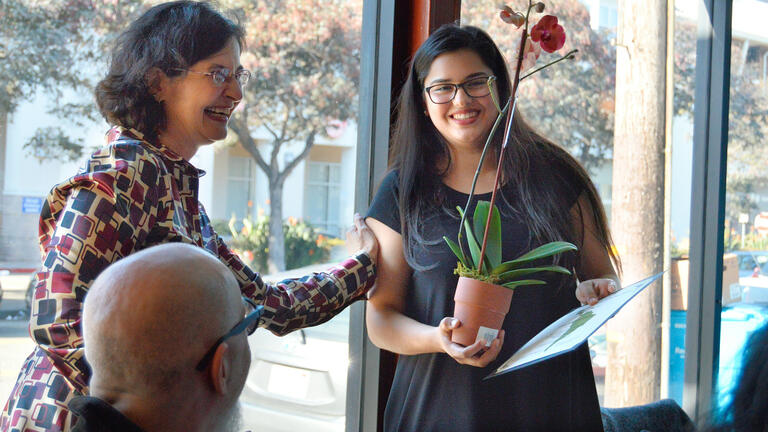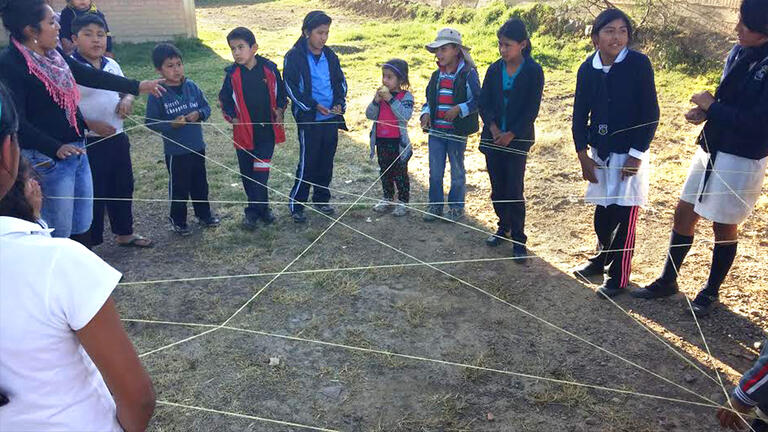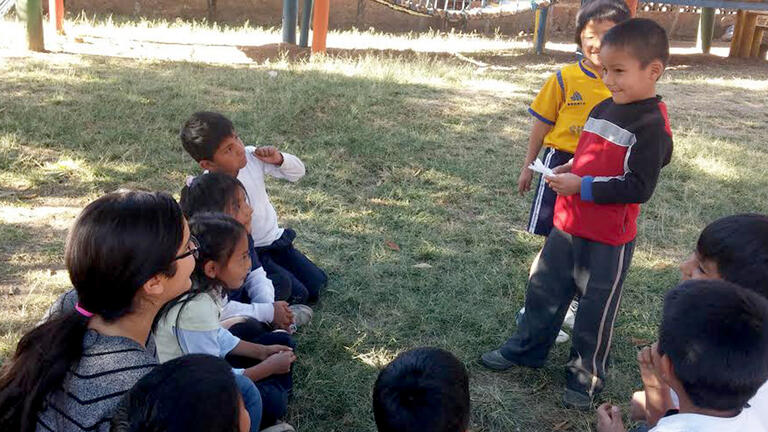 Sonia Hurtado Ureño accepts USF's annual Latin American Paper Prize
Ureño traveled to Bolivia to work with Aldeas Infantiles SOS
Ureño became deeply interested in Bolivia's educational reform