Equipped to Lead and Succeed
The State of the California Veteran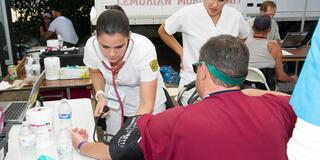 I recently attended a continuing education webinar entitled "The State of the California Veteran," sponsored by the ANA/C (American Nurses Association/California). As a member of USF's School of Nursing and Health Professions Dean's Alumni Advisory Board, I was interested in the topic due to USF's partnership with the Veterans Administration Northern California Health Care System (VANCHCS) in Sacramento, which offers a Bachelor of Science in Nursing degree (BSN). USF's VANAP Program (Veteran Administration Nursing Academic Partnership) involves students working with veterans to advance health care and simultaneously embody Jesuit values.  Their clinical rotations focus on veterans' care, clinical placements in VANCHCS in-patient and out-patient settings, and at the Shriners Hospital and Mercy San Juan. I was hoping the webinar might mention USF's VANAP program, and I was interested in learning more about it. The webinar exceeded my expectations. It was an enlightening, eye-opening, and inspiring presentation for this non-VA-familiar nurse!
The webinar addressed three sections: Research, Community Connection, and Academic Programs. The first speaker, a PhD Social Worker from USC, Dr. Castro, spoke about the fact that more than half of veterans and their families do not need veteran services, that not every veteran has PTSD, and that most families are resilient. However, the remaining veterans needing assistance, can face a difficult time transitioning from the military to civilian life. Dr. Castro stressed that the military culture is very different and that it is essential that health care workers caring for veterans, become culturally competent in recognizing this difference in cultures. The Veteran Administration centers its care around the "Military Transition Theory," recognizing that it is a process, not an event. The VA centers have interventions for approaching the military transition, managing the transition, and assessing the transition with outcomes defined in employment, housing, health care (physical and mental health), family relationships, education, sense of belonging, legal issues, financial issues, community connections, and having a sense of purpose.
The second speaker, Amy Fairweather, JD, Director of Policy at Swords to Plowshares, discussed several programs and services that Swords To Plowshares offers to veterans, specific to the current crisis of care for the aging and high acuity veterans with physical and mental health challenges. She spoke of three resources to protect the rights of veterans: (1) Veteran Support To Self Reliance, a pilot program that aims at helping the veterans in need to age-in-place, as the majority of those veterans they serve are older than 55, low income and homeless; (2) Toolbox.vet, this online library aims to equip veteran advocates and providers better to assist veterans in need; (3) Combat-to-Community, an accredited curriculum that focuses on an increased understanding of the military/veteran culture tailored to train police, first responders, legal teams, social workers, register nurses, and other health care professionals in becoming more culturally competent in their work with veterans.
The third speaker, Dr. Ortiz former USF's VANAP Co-Director in Sacramento, focused on the importance and value of having a dedicated veterans curriculum embedded into a nursing program. He emphasized the importance of teaching about veteran/military culture and the need for that specific and unique cultural competence, veteran care, and learning about veteran family member status and the impact on spouses/children/parents. And yet, only 5% of the national baccalaureate nursing programs have dedicated veteran-centric programs. 
With pride, I heard that USF's VANAP program is the only program that embraces veteran-centric care in Northern California and how it reflects the Jesuit tenet of "cura personalis," the care of the whole person, and the care of the veteran is the ultimate definition of what holistic care is all about. USF's VANAP program has an excellent retention rate for students, with many of them staying on to become registered nurses within the VA system. The academic partnership model with Veterans Affairs will be one of the best ways to ensure high-quality, veteran-centric nursing care for now and in the future.