Passion for Justice
Shared Struggle Connects Teacher of the Year with Students
USF's Charles Fowler MA '12 is single-mindedly dedicated to creating opportunities both in and out of the classroom for students to learn by improving their community. 
And that dedication has made him teacher of the year for the Eastside Union High School District in San Jose.
Start with motivation
Fowler works with an uncommon spectrum of students. Yerba Buena High School is located in one of the city's toughest neighborhoods. He teaches some of the school's over-achievers in advanced placement history classes as well as students from troubled homes in a social emotional learning course called 180 Degrees. He's best known for student-led campaigns, bringing diverse groups of students together to clothe the homeless and clean up city blight — projects meant to illustrate the difference the youngsters are able to make in others' lives.
"Charles goes above and beyond," says Yerba Buena High School Principal Tom Huynh. "He's able to connect with our high achieving students as well as our struggling students, some of whom barely show up. Not everyone can do that, it's impressive. He can motivate just about anyone."
Any success, Fowler insists, has grown out of his personal connections with his students and the community. Fowler, who graduated from USF's School of Education's Urban Education and Social Justice program, makes time to attend nearly every school event one of his students takes part in, frequently talks with parents, and spends 15­ to 20 hours a week volunteering. He regularly helps organizations including The Firehouse gang intervention initiative, Silicon Valley De-Bug media, and California Community Partners for Youth, which serves at-risk kids.
Know your students as you know yourself
But does it make a difference? Fowler says it does, and he knows better than most. He used to be in the same situation many of his students find themselves in today — growing up in an abusive home with drugs. He struggled and felt disconnected in high school. "I carried a lot of pain and anger as a young man," Fowler says. "And I constantly found myself not supported by teachers."
But his grandmother kept him going in high school and when he eventually enrolled in college. Fowler was accepted into USF's urban education program, where he learned the power of sharing his own story and being open to students' stories — which can be hard to hear.
"I credit professors Patrick Camangian, Richard Ayers, and Noah Borrero for supporting me and continuing to support me," Fowler says. "The urban education and social justice program has a great community. Not only do I have former professors who have my back, but I have my cohort of fellow graduates, former graduates, and new recruits who constantly share resources and support."
Remain humble for the work ahead
While humbled and pleased by the award, Fowler hasn't spent much time dwelling on his newfound recognition. "There's still work to be done," Fowler says. "Young people are still being mistreated, largely based on race, gender, class, sexual orientation, documented status, and for other reasons they have no control over."
Fowler and other teachers of the year will be honored by Santa Clara County's department of education in a ceremony Oct. 2 at the Heritage Theatre in Campbell. 
Know someone with a powerful USF story? Let us know! usfnews@usfca.edu | Twitter @usfcanews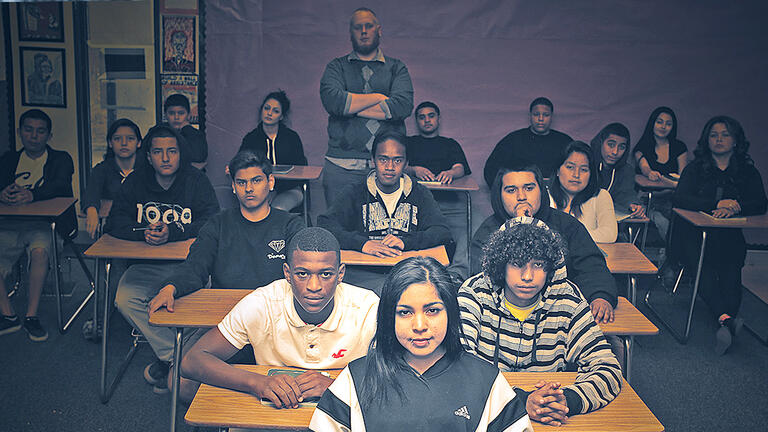 Charles Fowler MA '12 (standing) is teacher of the year for the Eastside Union High School District in San Jose. Photo by Jean Melesaine.