School of Education Welcomes New Faculty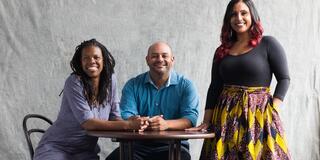 The School of Education is excited to welcome Dr. Colette N. Cann, department of international and multicultural education, Dr. Alejandro Covarrubias, department of leadership studies, and Dr. Farima Pour-Khorshid, department of teacher education, as new faculty to the School. Learn more about their work, and what excites them about joining the School of Education.  
Dr. Colette N. Cann earned her BA from Stanford University and completed both her MA and PhD at the Graduate School of Education at UC Berkeley. Prior to coming to USF, she worked as a math teacher, academic advisor and coordinator for youth programs at the middle and high school levels and supervised and taught in UC Berkeley's Principal Leadership Institute.  Most recently, she comes to USF after ten years at Vassar College as an Associate Professor of Africana Studies and Education. In addition to teaching at Vassar, she was also the chair of the Education Department, Class Advisor to the class of 2019, a house fellow in a residence hall and director of Exploring Transfer (a program that supports community college students' aspirations to transfer to four-year institutions). She worked with students over the past four years to establish the RISE Center for Racial Justice. RISE's most recent initiative focused on working with teachers to increase their racial literacy.
Professor Cann writes and teaches in the areas of critical race theory, community-college partnerships, intergroup dialogue in higher education, and racial identity development and racism in higher education. Her work has been published in journals such as Urban Education, Journal of Peace Education, Qualitative Inquiry, Cultural Studies – Critical Methodologies, Journal of Transformative Leadership and Policy Studies, and Mentoring and Tutoring Journal and she has authored books and been invited to write for edited volumes published by Teachers College Press and IAP.  Her forthcoming co-authored books, Academic Activism, will be released by Myers Press in 2019.
Says Cann, "I am truly excited to join a team of students, staff and faculty so passionate about building a community that can sustain us as we strive to make change in the world. I am inspired by their work and humbled to now be considered a member of this active/activist community."
Dr. Alejandro Covarrubias, Department of Leadership Studies, has over a decade of experience as a student affairs practitioner working on four different campuses across the country. He spent six years working in the University of San Francisco's Cultural Centers and served as one the of co-directors of the centers for two-and-a-half years. He also has eight years of experience as a social justice and equity consultant for higher education institutions like UC Berkeley, San Jose State University, Northwestern University and Colorado State University. Covarrubias also serves as faculty for the Social Justice Training Institute (SJTI.org), a week long racial justice immersion program for higher educational professionals.
Covarrubias earned his EdD in international and multicultural education with an emphasis in human rights education at the University of San Francisco. His research interests include exploring the experiences of men of color in higher education from a social justice framework; men's engagement in sexual violence prevention education; equity based supervision across multiple social identities; and the use of participatory action research and other critical qualitative methodologies with marginalized communities in higher education.
Says Covarrubias, "I am most excited about the opportunity to continue to work with students who are committed to creating more access and equity through education. I hope to challenge students to think more critically about the institutions they work in and to empower students to fully embrace their awareness, knowledge and skills to create change through their work and through their scholarship. I am also excited about the opportunity to work with such amazing colleagues who embody what is means to fight for justice and be community engaged scholars."
Dr. Farima Pour-Khorshid is a proud Bay Area educator-organizer-scholar. After teaching at the elementary level for over a decade in the Hayward Unified School District, as well as teaching university courses, supervising pre-service teachers, and facilitating teacher development throughout Nicaragua where her mother's family emigrated from, she is now an assistant professor and teacher supervisor at the University of San Francisco. She holds leadership roles with San Francisco's Teachers 4 Social Justice (www.T4SJ.org), the People's Education Movement-Bay Area, the national Education for Liberation Network (www.edliberation.org) and the Radical Healing Summit at Flourish Agenda. Her research interests and areas of expertise include grassroots social justice teacher organizing, critical professional development, critical racial affinity groups and radical healing approaches to support educators within the field.
Says Pour-Khorshid, "I'm really excited to continue building in solidarity with USF this year. I've been so blessed to have had the opportunity to collaborate with the School of Education for the past five years and the relationships that I've developed with faculty and students have played a significant role in making me a better human being. I also hope to continue building bridges between my local and national grassroots teacher organizing work, my international commitments to teacher professional development throughout Nicaragua and my teacher education work at USF. There was a time in my life when I thought going to college was an unattainable feat so I am humbled and honored to be a first generation college graduate and professor and I will continue aspiring to manifest all of my ancestors' wildest dreams. I am overwhelmed with gratitude to work at a university whose mission and vision so deeply aligns with my existential purpose in this life."