Giving
Scholarships for Social Justice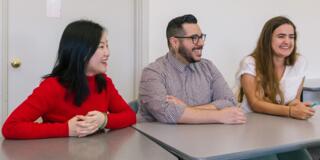 With its dedication to human rights, critical theory, and engaged scholarship, the University of San Francisco School of Education has a long-standing legacy of fostering scholars and practitioners with a deep sense of social responsibility and justice.
Many students arrive at the School of Education as current or aspiring teachers, counselors, community organizers, and administrators. While at USF, they experience the power of transformative education and through it become activists and educators equipped to serve vulnerable communities.
With growing health, racial, social, and economic disparities, the School of Education is doubling down on its legacy by expanding on enrollment, curriculum, and resources with the help of donors.
Education as a Humanizing Experience
At the onset of shelter-in-place orders, an anonymous donor gifted $500,000 to the School of Education's Dean's Discretionary Fund, allowing Dean Shabnam Koirala-Azad to direct the funding to support the school and its students' most pressing needs.
With this donation in-hand, Dean Koirala-Azad and her team reached out to students, faculty, and staff, asking; how can education be humanizing in a time of chaos; how can USF support you in a time of great uncertainty; and how can USF as a collective support social justice in a time of growing disparities?
In response to the answers they received, her team began to implement changes throughout the school. Faculty restructured classes to fit an online environment. Adjustments were made to curriculum and instruction to address evolving needs within an uncertain context. Dean Koirala-Azad began hosting weekly public Zoom sessions to provide open lines of communication between herself and students. The school also launched its Center on Humanizing Education and Research (CHER) with a speaker series focused on humanizing education in the promotion of racial justice.
Alleviating the Challenges of the Pandemic
The responses from students have been overwhelmingly thankful toward the school, Dean Koirala-Azad, and the donors who helped support both the immediate needs and the future vision of the school.
"I am reaping the benefits of the incredible mentorship, support, and scholarship I receive from my professors and advisors. Thanks to my courses and lessons I have been able to refine the community mental health program I created to support immigrant and refugee community leaders working for their communities." - 2nd year EdD Student
"During this time, I collaborated with another student to co-found an educational organization called Making Us Matter. We are currently working towards developing a global network of Black educators who work collectively to create an empowering curriculum for Black youth. The scholarships and the support I've received have given me the ability to be part of something special." - 1st year EdD Student
"Although finances have always been tight — I am a public school teacher in the most expensive housing market in the United States — the pandemic has made things especially difficult. Without the generous financial gift provided by donors, I would be unable to participate in USF's doctoral program and to take advantage of this inspiring, enriching, and intellectual community." - 3rd year EdD Student
Doubling Down on the Legacy of Social Justice
Though tremendous efforts have been made for the School of Education community, the work doesn't stop. The Fall (2020) semester welcomed the largest enrollment in the School of Education in eight years, with a 15% growth in enrollment.
"People are responding to the moment and seeing the need for transformative education to bring about meaningful and urgently needed changes. We can see this in the critical need for racial justice, equity, and an overall need to dignify the human experience, especially for those historically marginalized. This can only happen through a shift in consciousness, which is how we define education. The USF School of Education has a long legacy of providing the type of education that advances social justice," says Dean Koirala-Azad.
With growing enrollment, the need for scholarships is the first priority for the School of Education. Another priority is to further develop the Center for Humanizing Education and Research (CHER) to function as an incubator for faculty and student research. Both priorities cannot be achieved without the support of donors.
"When you give to the School of Education," says Dean Koirala-Azad, "you are supporting a solid entity, one with a legacy of living and advancing the Jesuit mission of educating minds, hearts, and souls that change the world, and one that is excelling in the work itself."
To make a gift to the School of Education Dean's discretionary fund, visit www.usfca.edu/giving or contact Tina Burgelman, Director Development for the School of Education at taburgelman@usfca.edu or (415) 867-0242.