Remote Learning, Summer Edition
College Access Program Overcomes COVID-19 Challenges with a Myriad of Summer Activities and Services
The inability to work directly with students due to the impact of COVID-19 presented a huge challenge to the USF School of Education's College Access Program (CAP) staff. "The TRIO community met weekly during the first couple months to discuss challenges and share ideas for modifying service delivery," explains CAP Director Joe Omega. "As a national program, there were so many suggestions and ideas that it became quite overwhelming."
Those early meetings were instrumental in providing CAP staff members Gracee Anguiano, Joana Garcia-Zacarias, and Steve Juarez, insights that would shape the activities and services offered during the summer. An online recruitment process was quickly established and implemented resulting in the addition of 100 new participants to the program in the final months of the school year.
The CAP staff invested countless hours training and familiarizing themselves with technology such as Zoom meetings & webinars, google forms and documents, and other tools and resources that would enable them to provide services and activities in the "virtual world." In addition to individual academic A-G advising sessions via Zoom, participants benefited from live webinar presentations including "College Admissions Update for Rising Seniors," "Virtual Tour of San Jose State University," and "College - Planning Your Future." In an effort to combat "Zoom fatigue," the staff created short, recorded videos on various topics ranging from important college-going information to "Wellness Wednesday" videos focused on social and emotional topics affecting students during these challenging times. "Optimizing your 'Rational Brain' - Name it to Tame it Activity" and "Happy Place Visualization" are some examples of content available for students to view at their leisure.
Prior to COVID-19, CAP was gearing up to conduct a three week introduction to coding program in collaboration with Dr. Alark Joshi of the USF Computer Science Department for 30 high school students on campus. Over the course of a few months, the program was converted into a virtual experience and served 24 students during the three week, two-hours/day program. In addition to Dr. Joshi, three USF Computer Science students, Daniel Barajas, Ornelle Fonkoua Mambe, and Genesis Kaleikau, co-taught the course. The amazing instructional team provided an engaging introduction to computing and its possibilities in today's world. The Plezmo computing platform used in the last week of the program enabled students to apply the concepts they learned into real world projects that included building a home alarm system, a smart parking system, a robot, and even a smart car. An afternoon career workshop featured engineers from the Salesforce company - Vlocity, providing students additional insights into a potential career in the technology industry. Finally, a generous donation provided a small stipend to the students after successful completion of the program.
All signs point to the summer services and activities being on the right track with an incredible 98% attendance rate during the three week coding camp along with favorable evaluations from students for the educational and motivational webinars and recorded content, and for individual academic and college planning advising sessions. Ultimately, the investment of time during the summer to develop and sharpen the necessary skills of working in a COVID-19 environment, will enable the CAP staff to continue providing quality services and activities, as these challenges look to continue well into the next school year.
Want to learn more about College Access Programs at USF? Contact talentsearch@usfca.edu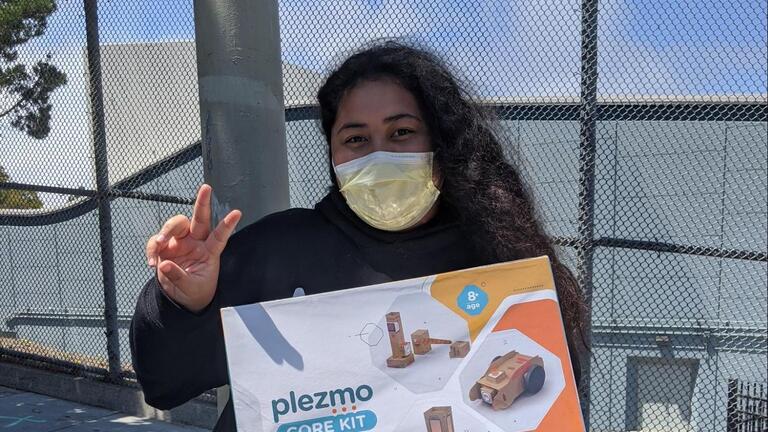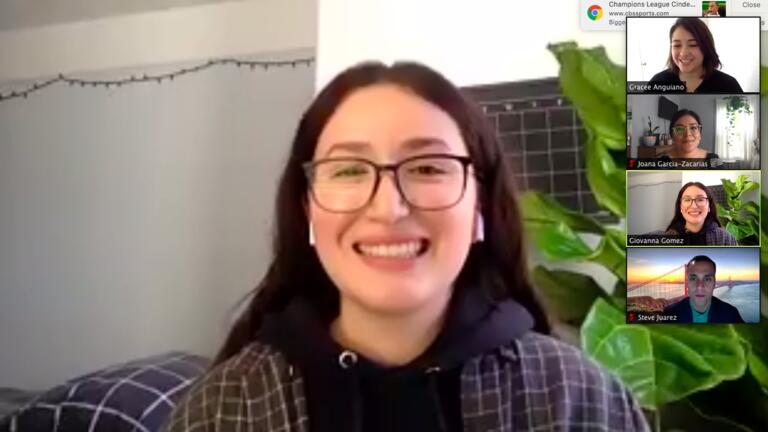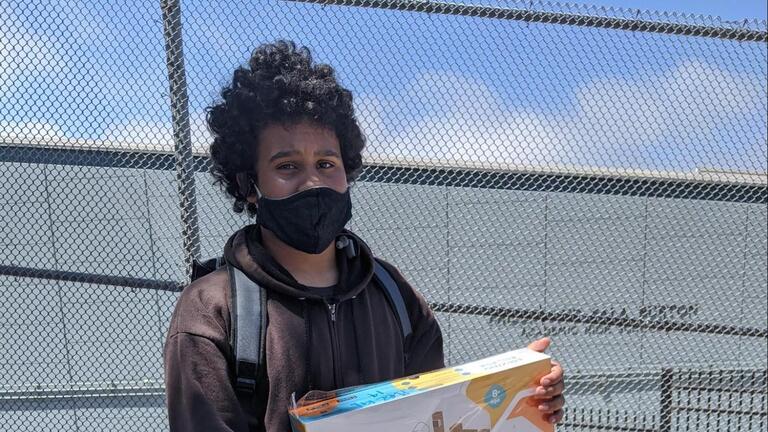 Student with a Plezmo computing platform used to complete projects at home
USF College Access Program Alum, and current San Jose State University (SJSU) undergraduate, sharing experiences with SJSU virtual tour participants
Student with a Plezmo computing platform used to complete projects at home