Engaged Learning
Programs Combine to Enrich Students' Experience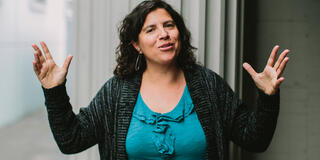 USF's MA in Urban and Public Affairs (UPA) trains students to become community leaders committed to serving the greater good. UPA arose from two former programs combining: the MA in Urban Affairs and the Master of Public Affairs. With complementary missions, the purpose of combining the two programs was to offer students a richer, more dynamic curriculum.
UPA's interdisciplinary focus gives students a deeper understanding of urban studies, community and political organizing, and policy for social change. It also opens up a wider array of career paths, providing the knowledge and skills students need to work in think tanks, policy development, government positions, or the private sector.
UPA's program director, Rachel Brahinsky, said the faculty are excited to bring the best of both programs under one roof and offer students a fresh approach to these disciplines.
A Robust Alumni Network
One of the benefits of bringing together the formerly separate Urban and Public Affairs programs is that it gives students an even more robust alumni network to tap into. Each program's alumni have proved to be a great resource for students, providing advice, recommendations, internship opportunities, and job placement.
"We have a wonderful active network of alumni," Prof. Brahinsky said. "When they have internships and jobs for current students or other alumni, they contact us. We've been happy to see a chain effect, where students serve as interns, then get hired, then reach back to us with internship opportunities for the next cohort."
Alumni have had a hand in helping students land internships and jobs around the Bay. The list includes a wide range of departments within the City and County of San Francisco; the Tenant's Union, an organization fighting for renters' rights; HomeBase, a public policy law firm addressing homelessness; and even the Golden State Warriors basketball team, for whom several alums coordinate public affairs.
Engaged and Experienced Faculty
Prof. Brahinsky said one of the things the program takes great pride in is its incredibly engaged faculty, which includes practitioners in the field. Faculty have served in key positions in local government; managed local mayoral campaigns and national presidential campaigns; worked with community organizations such as the San Francisco Labor Council and SPUR; and much, much more. This means students have the unique opportunity to learn about topics such as financial management and urban planning from actual financial managers and urban planners.
"Students get to work with professors who are actively engaged in policy advocacy and urban strategizing, or conducting research on policy, politics, and the urban context," Brahinsky said. "This makes for an exciting diversity of experience in the program."
Alumnus Alexander Archer MA '15 said, "My favorite experience in the program was the faculty. They all have unique stories — and with small class sizes, we really had the opportunity to discuss and deeply explore the subject matter."
Hands-On Learning
Just as Urban Affairs and Public Affairs were before it, the UPA program has a strong emphasis on community engagement. It partners with nonprofits and organizations around the Bay to open up opportunities for internships and community-based research projects, both of which allow students to get hands-on experience applying what they've learned in the classroom. Community engagement is built into the curriculum, ensuring that every student benefits from the Bay Area's cultural and intellectual resources.
Alumna Jelena Hasbrouck MA '12 said, "My favorite feature of the program was how practical the work was. I had classes at City Hall, performed grant writing for a local community organization, and met with speakers from various levels of government."
Sebastian Conn MA '16, added, "I wasn't just in the classroom reading a textbook. My colleagues and I were on the campaign trail, attending hearings at City Hall, and meeting individuals that do crucial advocacy work."
Many UPA classes give students the opportunity to pursue volunteer work that complements their coursework. All students complete an immersive summer internship, giving them the chance to develop skills and relationships in the field while also serving the needs of their community. Students then are not just prepared to lead their communities after graduation, but to change them for the better.