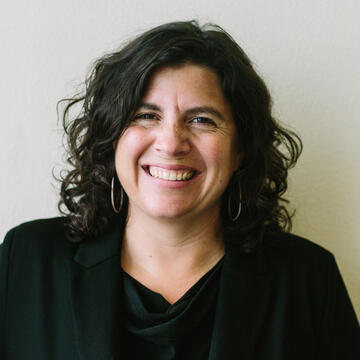 Rachel Brahinsky
Associate Professor
Biography
Professor Rachel Brahinsky teaches in the Urban and Public Affairs graduate program, the undergraduate Urban Studies program, and the Politics Department. She earned a PhD in geography from UC Berkeley, where she focused on the human and social geography of cities, with an emphasis on the politics of race and place. Her research and teaching center around the challenges of race and inequality in the context of rapidly changing American cities, with a longtime focus on the San Francisco Bay Area. She served as program director for the Urban & Public Affairs program from 2013-2020.
Appointments
Affiliated Faculty, Politics Department
Education
PhD, University of California, Berkeley
Selected Publications
A People's Guide to the San Francisco Bay Area (with Alexander Tarr), forthcoming October 2020.

"Singing the Dark Times, in There There," Journal of Interdisciplinary Perspectives and Scholarship, Vol. 2, Article 5 (Spring 2020).

"The Story of Property: Meditations on Gentrification, Renaming, and Possibility," Environment and Planning A: Economy & Space, Jan 5, 2020

"Fillmore Revisited — How Redevelopment Tore Through the Western Addition," The Public Press, Sept 23, 2019.

"Tell Him I'm Gone. On the Margins in High Tech City," in Susan McWilliams (ed.) A Political Companion to James Baldwin. University Press of Kentucky, 2017.

"Introduction: Race, Space & Nature, New Connections, Emerging Methods," Antipode, Nov. 2014 (with Jade Sasser, & Laura-Anne Minkoff-Zern).

"Race and the Making of Southeast San Francisco: Towards a Theory of race-class." Antipode, Nov 2014.

"The Death of the City? Reports of San Francisco's demise have been greatly exaggerated," Boom: A Journal of California, Summer 2014.