Engaged Learning
Power in Partnership
Bringing Art and Counseling Together to Empower Youth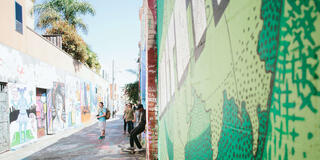 We do not exist in a vacuum, but within an ecosystem that is healthiest when we have deep, mutual relationships with one another, says Anjee Helstrup-Alvarez Executive Director of Movimiento de Arte y Cultura Latino Americana (MACLA).
The School of Education's Marriage and Family Therapy program on the San Jose campus has teamed up with MACLA to provide mental wellness support for youth program participants. The partnership demonstrates the benefits of working together across disciplines to support and empower youth.
MACLA is a community art space that views art as a vehicle for social change. Established in 1989, MACLA offers over 50 programs annually in the areas of visual arts, performance and literary arts, youth arts education, and community development through the arts. MACLA is based in Latino/Chicano culture but approaches art as a tool for connection and unity across cultures. 30,000 youth, adults and families participate in MACLA programs annually and the organization has received national recognition for its commitment to activism and community mobilization through art.
MFT student Jimmy Yang ′20 volunteers with MACLA's Digital Music & Culture (DMC) Studio which mentors youth ages 13-19 through workshops in multimedia production. Yang's work with youth program participants demonstrates the benefit of having trained therapists in environments that are not counseling-specific, says Helstrup-Alvarez. Most staff and volunteers work with DMC Studio because of their expertise in multimedia and their interest in mentoring youth. DMC Studio provides an environment for the development of authentic relationships between youth and caring adults. Yang's counseling training within the context of the studio provides a unique resource for both youth participants and fellow volunteers.
"Our collaboration is important because we're developing the critical thinking skills of our youth by challenging the decisions they make and give insight into why most generally make subconscious decisions," says Ruben Escalante, DMC Studio Coordinator. Currently, Yang is working with Escalante to develop leadership characteristics in volunteers, and provide youth guidance around educational opportunities so they feel empowered to further their education and attend college.
For Yang, the work he does with MACLA has been a pivotal part of his preparation as a therapist. "Learning [counseling] theories and at the same time applying them at MACLA with the youth has been an honor and privilege - keeping me grounded and reminding me why we do the work we do from a social justice perspective."
Yang is excited about continuing his work at MACLA and for the possibility of other USF students to be supportive adults in the lives of youth participants. "I always learn from the kids at MACLA. They are resilient and wise. They are positive, loving, caring, and see the goodness in humanity, and want to do good."