Equipped to Lead and Succeed
Pay It Forward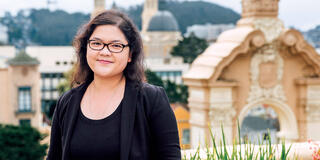 About Me
I'm Putri Ojong '10, MA '12, and I work at California Pacific Medical Center Sutter Health's integrative psychotherapy training program. I'm a clinical supervisor and the training lead for graduate students accruing their clinical hours to become licensed marriage and family therapists.
About My Time at USF
As a native San Franciscan, I almost lived at home while attending USF. Thankfully, I chose to live in Fromm Hall, where I met friends I'll have for the rest of my life. On any given day you could find us working out at Koret, hanging at Crossroads Café, taking a few moments to breathe in St. Ignatius Church, or going dancing downtown.
About My Family
My parents immigrated to San Francisco from Indonesia two years before I was born. My dad worked long hours to send my sister and me to private Catholic school in the city, while my mom was our teacher, chef, chauffeur, doctor — the list goes on and on.
How USF Changed My Life
In one of my last undergraduate psychology classes, an instructor from the counseling psychology graduate program came to talk about the program. Enrolling in the program was the right move for me.
Why I Believe in USF
When I was an undergrad, USF's slogan was "Educating Minds and Hearts to Change the World." Now it's "Change the World From Here." Those two sentiments describe what I want to share with the Dons (and others) I supervise: How can we engage our own and others' minds and hearts to change the world for the better — right here, right now?
Why and How I Give Back to USF
I donate what I can monetarily, because I want to support students looking for their own calling in the world. I also contribute to the USF mission in my work with USF graduate students. Mentoring them as they begin their journeys as therapists in the mental health profession is the most rewarding way of giving back that I could imagine.