Engaged Learning
New Center for Humanizing Education & Research (C-HER) Hosts Summer Conversation Series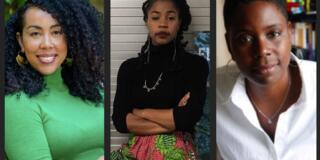 The events, featuring renowned educators and activists, embodied the Center's mission to "promote the generation, application, and diffusion of high quality, methodologically rigorous research that is conducted in solidarity with local and global communities to address pressing issues through humanizing frameworks."
"C-HER provides a space to think, ask questions, play with ideas, and build alternatives across our siloed identities and roles in the field of education - to start today what we want for tomorrow," says Danfeng Koon, assistant professor of leadership studies.
Founded by faculty from across the School of Education, C-HER strives to increase institutional and collective capacity to impact public consciousness, policy, and practice in order to build stronger movements towards justice. It seeks to provide a space to engage in the critical reflection necessary for transformative action and imagining something new.
"I believe C-HER will allow us to use the traditionally oppressive 'Ivory Tower' to support teachers, organizers, families and youth to reimagine collectively," said Cecelia Jordan '19 educator and C-HER conversation facilitator. "My hope is that we creatively leverage our resources to not just produce humanizing research, but reimagine how we engage with results and put the information back into the hands of those most impacted."
Summer Conversation Series
The C-HER summer conversation series began with a href="https://youtu.be/bOU5bSMIN6o">"Humanizing Education in the Fight for Black Lives." Panelists included kihana miraya ross, assistant professor at Northwestern University and author of the powerful New York Times piece "Call It What It Is: Anti-Blackness;" Micia Mosely, founder of The Black Teacher Project; and Savannah Shange, assistant professor of critical race & ethnic studies at UC Santa Cruz and author of "Progressive Dystopia: Abolition, Anti-Blackness, and Schooling in San Francisco."
Youth volunteers asked questions of the panelists and engaged in conversation about systemic racism within education. Panelists shared how their lived experience informs their work of abolition and anti-racism.
"As a radical Black educator with abolitionist dreams I felt kihana miraya ross captured a really important point for the days we feel hopeless: 'We must do what we can in the meantime, in between time.' This means being creative about how we are pushing within, against and beyond systems of oppression," said Jordan. "When we organize it is important to not operate within our 'this is the way things are' mindset and always find entry points to push justice a little further."
The second conversation, "Humanizing Education in the Fight for Black Lives: Lessons from the Field", built upon the foundation established by the first event. Panelists shared their practice of anti-anti-Blackness in their own institutions and everyday lives.
"As teachers we need to acknowledge that Black students are coming in protecting themselves from all the stuff that comes with being in a school," explained panelist Eghosa Obaizamomwan Hamilton. "Traditional schools are really centered on elevating and amplifying white authors, white history, white everything. So, as educators, being conscious of that and making sure we are creating visibility for those students to break down those defensive walls that they've learned to build up as a means of surviving school, but also surviving America."
Panelists included Eghosa Obaizamomwan Hamilton and Gertrude Jenkins, co-founders of Making Us Matter; Ciera-Jevae "Cici" Gordan, Media Arts & Cultural Manager at RYSE Youth Center; Hoang Pham, former elementary educator; Jyairrah Martin, senior at Ruth Asawa School of the Arts; and Ebony Johnson, community therapist and youth and family advocate. Following the panel conversation, attendees joined racial affinity breakout groups for further discussion.
The C-HER summer series culminated with "Humanizing the Future? Reimagining the Default Settings of Technology & Society," a conversation between Dr. Shabnam Koirala-Azad, Dean of the USF School of Education, and Dr. Ruha Benjamin, associate professor of African American studies at Princeton University. The conversation explored Benjamin's new book Race After Technology: Abolitionist Tools for the New Jim Code and its implications for navigating our technology-dominated reality.
"The 'New Jim Code' is naming that simultaneity of innovation and social containment," explained Benjamin. "It's that innovation is producing new forms of containment but what makes it even more dangerous than the types of racism that we associate with the past - that are still ongoing - is that it's hidden. The New Jim Code is hidden behind a veneer of neutrality."
Their conversation discussed tools to equip educators creating a new reality. "We know that it's important to be able to name what's hurting us and what's killing us as a first step in order to refute it and to counteract it," said Benjamin. "But when we only stay in that mode of refutation, only stay in that mode of naming what we don't want, we never get around to actually naming what we want again as a first step in order to create it."
Looking Forward
The work of C-HER is all the more critical in this moment. "Especially at this time of converging pandemics, we see C-HER as a space to gather virtually to heal, to learn, and to think and to engage in critical, reflection that's necessary for, transformative action - also for dreaming up new possibilities," says Dr. Emma Fuentes, associate professor of international and multicultural education.
Access recordings of the C-HER Summer Conversation Series & Connect with C-HER >>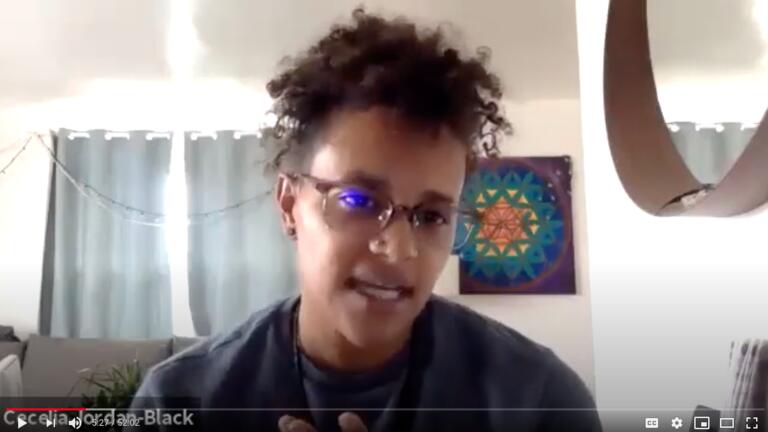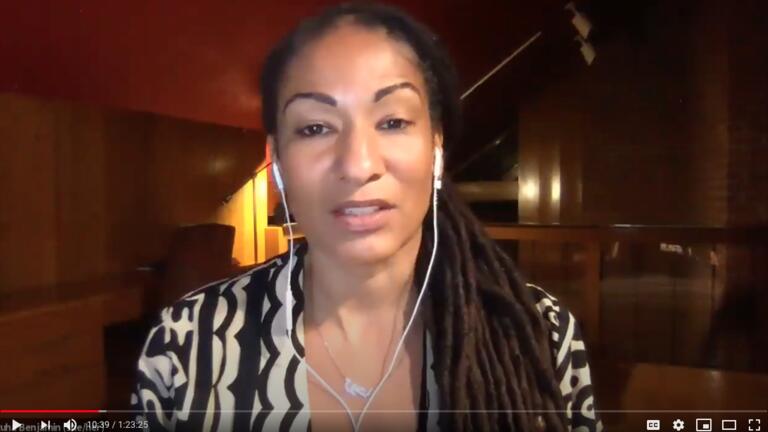 Cecelia Jordan '19 facilitated the second C-HER summer conversation, "Humanizing Education in the Fight for Black Lives: Lessons From the Field."
The final C-HER summer conversation was a discussion between Dean Shabnam Koirala-Azad and Dr. Ruha Benjamin (pictured), "Humanizing the Future? Reimagining the Default Settings of Technology & Society."