Engaged Learning
Meet Your Professor: Julio Moreno
Part of a summer series on getting to know teachers at USF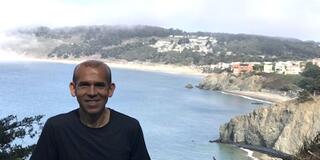 The professor of history talks innovation, engineering, and how education changed his life.
So you're teaching an engineering course?
Yes. I'm co-teaching Sensors and Instruments Through History with Professor Genna Smith. The course introduces medical diagnostic and communication technologies through the lens of scientific innovation and historical significance.
Tell us about engineering at USF.
When the university was researching what employers were looking for in future engineers, the one thing that repeatedly came up was they wanted engineers who were able to think outside the box, be creative, and bring that creative energy into their work. Our approach gets students to think about both the technical aspect of engineering and the other important elements for engineering, like the arts and humanities.
What brings you to teaching?
I never thought of myself becoming a college professor. I was born and raised in the Salvadoran countryside, and my family migrated to Los Angeles to escape the civil war in the 1980s. I was working full-time at a factory while also attending high school during the day. In 10th grade, a teacher asked me if I could stay after class. He said that I had done an excellent job on the assignment and asked me if I had ever thought about college. It was like a lightbulb moment for me.
As faculty, we can make a difference by not only giving students the skills to succeed academically but also by expressing our belief in them. We can help our students get to the next level.
What brings you to USF's engineering program?
Education changed my life, and I firmly believe our engineering program will transform the lives of students from all backgrounds. We have also designed our program around students who have a passion for practical service and a curiosity about the way things work.
Any advice for incoming students?
Take walks. Explore Golden Gate Park and the Presidio. The California Coastal Trail is just spectacular. You have beautiful views of Golden Gate Park and the Pacific Ocean. We're privileged to have such natural beauty in the city literally steps away from USF.
Connect with Professor Moreno at moreno@usfca.edu