Alumni
Leveraging Technology to Transform Learning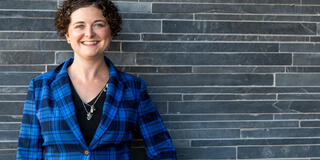 As a creative trainer for Apple, facilitating personal instruction sessions and workshops for individuals and small businesses, Emily Hendricks MA '13 saw firsthand how technology could enhance someone's life.
"No matter a person's age, technology enhances lives when it can bring a sense of wonder, provide a path to reach a goal and empower a person to reach out to others, collaborate and create," explains Hendricks.

"Through these diverse experiences at Apple, I developed a passion for how people learn, specifically with the enhancement of technology tools," says Hendricks. "I was primarily interested in USF's [Educational Technology] program because of its momentum in instructional technology research and a faculty with a wealth of experience in educational institutions."

The program's practicum courses were particularly valuable for Hendricks, providing direct experience in designing tech-integrated lessons.

"Project-based learning was ingrained in every course, leaving room for creativity and collaboration," she says. "I had opportunities to design websites, materials, presentations, and workshops that I could immediately begin utilizing and adding to my project portfolio. I designed the website tapanapp.org during the Instructional Design course."

Hendricks now works at Hillbrook School in Los Gatos, California as a technology support specialist, managing all technology on campus and providing personalized training for faculty, staff, and students. She is also teaching "STOMP" percussion and Digital Music classes for middle school students.

"I would never have known about this position without the help of a former USF professor," she says.

Hendricks has also had opportunities to present at USF's Research and Pedagogy Symposium, as well as the iTeach conference at San Domenico School, ISTE 2016, and the CUE conference in Napa, California.