Giving
Leading with a DEI Lens
Racism, Gender Inequity, and Intersectionality in the Workplace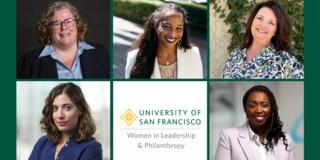 On September 17, the University of San Francisco's Women in Leadership & Philanthropy initiative brought four influential alumnae and faculty leaders together for a virtual panel to discuss their work and mission in the Diversity, Equity, and Inclusion (DEI) space.
Regina Lawless MSOD '12, Global Director of DEI at Micron Technology, Irena Halsey MBA '92, a consultant at Global Belonging, Diversity, and Inclusion, Susi Collins MNA '13, Amazon Web Services (AWS) Inclusion & Diversity Leader, and Dr. Jane Bleasdale Ph.D., an assistant professor in Leadership Studies at the USF School of Education, provided poignant insights and advice to company leaders on how to create a more inclusive workplace. Moderated by Dr. Mary Wardell-Ghirarduzzi, USF's Vice Provost for Diversity Engagement and Community Outreach, the group shared five key takeaways that industry leaders and employees can use to create more inclusive workplaces.
1. Our Zipcodes Don't Define Us
Where we come from should not limit us. Born and raised in East Palo Alto, Lawless reflected on the inequity she faced growing up and how she came to understand these disparities in her adult life. Her community lacked access to necessary resources and services that neighboring, wealthier, and predominantly white communities had in abundance. "When extreme affluence is juxtaposed next to poverty — you understand what inequity looks like," says Lawless. If leaders have an authentic desire to fight against systemic inequity, Lawless urges them to explore new talent outside traditional places or groups of people.
2. Identity Matters in the Office
In her work to promote intersectionality, Lawless explains how she often encounters colorblindness in the workplace. She says the perspective of colorblindness doesn't acknowledge different, intersecting forms of marginalization but instead devalues the important role identity plays in our daily life. Company leadership needs to recognize that their employees have unique experiences at work as a direct result of their (racial, gender, sexual, etc.) identity. By acknowledging these multiple identities and the role they, directly and indirectly, have in the workplace, companies create a more equitable experience.
3. Equity Equals Fairness
Dr. Bleasdale, USF professor, and educator noted that the disparities intertwined in the education system are even more prevalent during the pandemic. While remote learning continues, many low-income students have limited access to academic resources and supplies, thus negatively affecting their learning experience. According to Dr. Bleasdale, "Institutions need to create models of leadership that focus on prosperity, abundance, and equity. This begins with institutions asking what their student's individual needs are."
4. Hold Leadership Accountable
For women and women of color to thrive in the workplace, Collins introduced five foundational values that company leaders have the responsibility to follow: flexibility, leadership, opportunities, recognition, and pay equity. For example, the COVID-19 pandemic continues to force many working mothers to juggle work and home life in one setting. When leaders recognize this challenge and provide the flexibility to balance these responsibilities, working mothers can succeed while remote.
Collins also advises that organizations create diverse groups and boards to make decisions. This is especially important to prevent groupthink and social reproduction. When there is a diversity of thought, companies are able to provide leadership and job opportunities for women and women of color. With these new job opportunities, it is the leadership's responsibility to provide equitable pay based on the amount of work done.
5. Build a Plan Close the Gaps
To begin identifying the needs to create and foster an inclusive work culture, companies need to pay attention to retention, invite employees to express their concerns, and listen to employees' ideas.
"When companies start to become aware and address the visible gaps of gender and race inequity, that is when they can begin to create actionable plans for a more equitable workplace," states Halsey. She implores leaders to build a comprehensive plan to add the diversity, equity, and inclusion lens to their work and create a plan to sustain a commitment to this work.