Passion for Justice
USF Professor Leads Afghan Refugee Relief Effort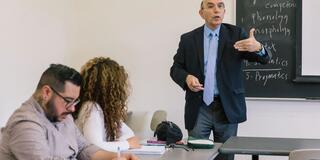 Sedique Popal knows what it's like to arrive in the United States with nothing but the clothes on your back.
He was one of 5 million Afghans who fled the country during the Soviet invasion in 1980. After arriving in San Francisco, he earned his EdD at USF in 1992 and has taught linguistics here for 28 years.
"These people are really suffering," he said of the current exodus of Afghans. "I can relate to their experiences. I can relate to their hardship."
Volunteers Needed
Popal, president of the Noor Islamic Cultural and Community Center in Concord, is organizing a relief effort for the thousands of Afghans leaving the country under Taliban rule.
Interested volunteers are invited to a meeting Sunday, Aug. 29, at 10 a.m. at the Noor center. The plan is to organize care packages for refugees, who range from infants to the elderly.
Popal expects hundreds of Afghan refugees to come to California, and thousands will settle elsewhere in the United States. Most will have nothing, and there will be a need for clothing, personal care items, and children's toys and diapers. The Noor effort will send care packages across the country, wherever they are needed, he said.
Dangerous Exodus
In addition to organizing the relief effort, Popal is in touch with his own family members who are trying to leave Afghanistan. His sister-in-law and two adult nieces have tried four times to get to the airport in Kabul, but they have not been successful and were beaten by Taliban soldiers. The country is an especially dangerous place for women, he said.
"They are imposing a gender apartheid on Afghanistan," Popal said. "We need to use every possible means to fight for women's rights in Afghanistan."
Popal's students have asked how they can help, and he will be tapping into their technical expertise to organize contact lists and other information that can be shared with the relief effort group.
In the meantime, "Please keep Afghans in your prayers and in your thoughts," Popal said. "We do need prayers."