Intelligent Lives
School of Education brings film on disability justice to San Francisco.
Dr. Emily Nusbaum, Professor of Disability studies at USF School of Education was instrumental in bringing a new documentary film Dan Habib's "Intelligent Lives" to Mission High School in San Francisco on December 12, 2018.
"Intelligent Lives" is a film that asks us to question the very construct of intelligence and how it has been historically measured, through the stories of 3 young people. It addresses the way race and disability have co-constructed one another and asserts the power of interdependence and relationship.
Over 200 attended the screening, including SFUSD administrators, special education/teacher education faculty from across the bay area, teachers, and families. The screening was followed by a panel and Q&A with the filmmaker and 4, disabled young adults from the community , Stephanie Ching, XIANNA (Z-Anna) Rodriguez, Isaac Haney-Owens and Danielle Liebl, about their lives, their work and their educational experience.

Dr. Nusbaum noted, "this film was significant as it demonstrates the damage that historical notions of intelligence have done - from American eugenics, institutionalization, and sterilization of those labeled with intellectual disability. And it tries to really complicate how each of us thinks about who gets identified as "intelligent" through the stories of these 3 young people and their families. It provides a wonderful foundation to begin this important conversation with teachers, teacher educators, and other education professionals-- those who provide or deny access to mainstream educational environments based on normative conceptions of "intelligence.""
Co Sponsors included San Francisco Unified School District, Support for Families of Children with Disabilities, the Parent Advisory Councils in SFUSD and the University of San Francisco School of Education.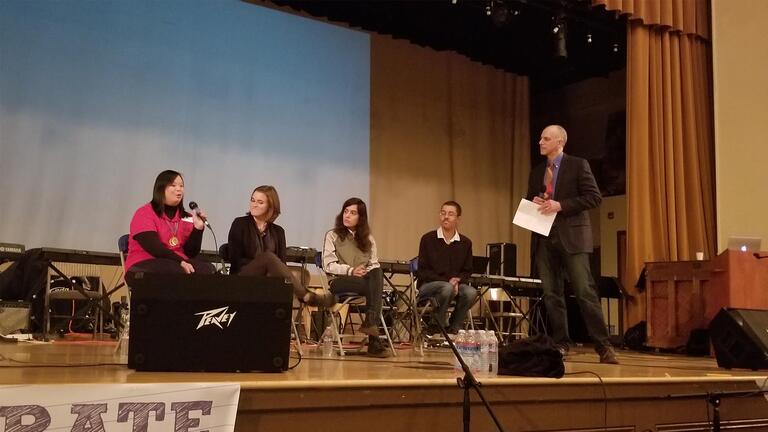 Students and Filmmaker Panel Discussion