Engaged Learning
Human Rights As a Transformative Vision
School of Education hosts two-week summer institute for human rights education.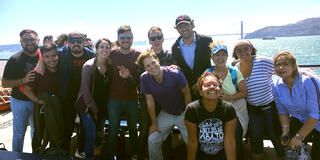 Entitled "Human Rights As A Transformative Vision," the two-week summer institute for human rights teachers took place at the USF School of Education between August 5 and 16, 2019.
Organized by the Miner Anderson Family Foundation, the University of San Francisco, and The World As It Could Be, the Institute brought together sixteen educators from a variety of places and school districts in the United States and Puerto Rico, including New York, New Jersey, Connecticut, Pennsylvania, Wisconsin, and California. The co-directors of the Institute were Amy Argenal and Ion Vlad, both recent graduates of the International and Multicultural Education doctoral program.
Participants explored the emancipatory possibilities of critical human rights education through a variety of workshops, lectures, and class activities. The first workshop was conducted by Professor Caroline Heldman, executive director of The Representation Project. She talked about the fight for women's rights historically and in the tumultuous contemporary context. Milton Reynolds conducted the second workshop and concentrated on classroom modalities to question and dismantle racist legacies of subordination.
The third workshop was led by Cliff Mayotte and Erin Wong of Voice of Witness. They discussed ways in which oral narratives can facilitate a deeper and more emotionally-powerful understanding of human rights through personalizing stories. Finally, Sandy Sohcot, Ellen Sebastian-Chang, and Natalia Anciso from The World As It Could Be put together an intensely immersive three-day workshop centered on teaching human rights through the arts.
The presentations and class discussions led by Amy Argenal and Ion Vlad emphasized, among other topics, the rights of minoritized communities, socioeconomic rights in the context of neoliberalism, environmental rights, teaching for activism and social justice, and third-space education in human rights museums. A one-day field trip to Angel Island was organized in order to explore the rights of migrants and refugees.
Conducted by Docent Ben K. Lee, this visit provided an in-depth understanding of Angel Island's former immigration and detention center. Educators were able to observe several objects and artifacts dating back to the first part of the 20th century and hear very moving accounts about the human cost of racialization and discrimination in these spaces. Particularly resonant and evocative were the poems carved by detainees into the decrepit walls of the rooms where they were held indefinitely.
At the end of the Institute, the participants had the chance to present their own ideas of how they intend to incorporate the knowledge gained into their classroom teaching. Examples included devoting a part of the semester to teaching an overview of neoliberalism, starting a professional learning community on human rights in the district, or organizing an afterschool program around human rights aspects. These educators are expected to implement such related projects over the fall semester and subsequently report back to their Institute co-directors and peers about their experiences.