Equipped to Lead and Succeed
At USF, I Found Holistic Care for Veterans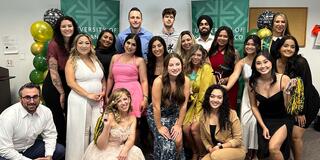 "I am honored to nominate Matthew Rodocker for the VANAP Values Excellence Award in recognition of their exceptional embodiment of the combined values of the Veterans Affairs Nursing Academic Partnership (VANAP) in their daily practice. Matt consistently demonstrates the highest standards of moral principle, a commitment to advancing a culture of dignity and respect, and a relentless pursuit of excellence in service to our Veterans and their families," shared University of San Francisco School of Nursing and Health Professions, VANAP Professor Red East D. Tumang.
Matt started his healthcare journey at the Emergency Medical Technician school and was soon encouraged to consider the military. Matt joined the California Army National Guard in 2017 and attended the Army's Medic School at Fort Sam Houston in San Antonio, Texas. Upon graduation in 2018, Matt joined the First Battalion, 184th Infantry Regiment of the California Army National Guard. Deployed to the Paradise Fire in 2018 for three weeks, Matt soon discovered the impact they could have on people's lives. They were searching and excavating the burned city of Paradise and working at the refugee shelter with those displaced by the fire. They cared for those with inhalation injuries, and those with chronic medical conditions without their medication available, and even helped to process FEMA documentation for those that lost their homes.
"We're calling hospitals and trying to get their medications, helping people to get money from FEMA for their houses, and even bringing animals to the vet," shared Matt.
Working hand-in-hand with the Disaster Management Team, Matt learned of the importance and alternatives of nursing work. He soon started the prerequisites and application process to the USF's VANAP Nursing Program. A friend mentioned USF's VANAP Program was perfect for Matt since it has a partnership with the VA.
"With nursing, there's so much more you can do."
Matt started the VANAP BSN Nursing program in August 2020. Soon COVID-19 started ramping up, and Matt got activated by the National Guard to do vaccinations in Long Beach. In 2021 Matt got moved to the medical strike team in Dignity's Memorial Hospital in Bakersfield to the COVID-19 telemetry unit.
Finally, in 2022, Matt rejoined school, now with another group of students. "I was a little nervous about the new group, but I soon was very happy. They're a great group of people. Everybody that's in our program is a great human being. Everybody just wants to see everybody else succeed. I don't mind group projects because we all want to succeed together. We all really want to work, be successful, and help each other. They're not there to compete."
Matt's contract with the National Guard is coming to an end. "As soon to be a veteran himself, his commitment to acting with high moral principle, his unwavering dedication to promoting dignity and respect, and his pursuit of excellence make him a deserving candidate for the VANAP Values Excellence Award, known as the ICARE Award," stated Professor Red East D. Tumang.
Matt's senior capstone preceptorship at the Shasta unit at the VA in Martinez provided an opportunity to experience wound care for patients with many different types of wounds. Pain management does not go overlooked at this facility, and every patient is premedicated thirty minutes to an hour prior to wound care. Still, even with this premedication protocol in place, Matt observed varying degrees of successful pain management during treatment. The purpose of Matt's project is to provide education on comprehensive pain assessments and examine methods to control wound-related pain during treatment in order to improve the patient's experience and outcomes.
What attracted Matt to the military and nursing is being in situations or positions where he can help people. The military's done a great job activating Matt for many emergencies in California. Now, soon with a nursing degree, Matt knows he will be in a great position to make a difference in people's lives and help everyone when they need it. Like in Paradise, Matt was proud to be helping people's health care and connecting them with food, pets care, housing, and finding loved ones.
"I provided really holistic type of care where it's not just the medical," said Matt.
At USF, Matt found holistic care for veterans, thanks to the partnerships with the VA. Matt's passion for helping veterans has increased throughout their nursing program, "they stepped up to help us; I'd like to be there to step up and help them."
For Matt, the USF BSN VANAP Program has been ideal. Thanks to the partnership with the VA and the level of understanding of the professors about needing to miss classes or extra time for work. The program is veteran-centric and focused on people in the military. The VA staff cares about their patients and the veterans they serve. For Matt, every patient is family. "They all are in the military and a part of my family."
"USF has been great to me, and I can't wait to see what the future brings," concluded Matt.