Passion for Justice
When Community Calls, She Answers
Against the odds, Evelin Trejo finished graduate school — and now fills a need in health care
Image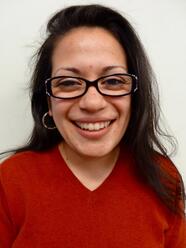 When Evelin Trejo MPH-MSBH '16 was in high school, her tutor told her mother that Evelin should stop thinking about college and start learning enough math to become a cashier.
"My mom looked at her, said 'Thank you' in the little English she knew, and told me to just keep walking back into class until I graduated," Trejo said.
Today, Trejo holds a master's degree from USF, a job at University of California San Francisco, and has a calling to help underserved communities navigate the health care system.
But to really appreciate where she is today, you need to hear where she came from.
Life at the Hospital
Born in San Francisco and raised by a mother from Guatemala who wasn't documented and who didn't speak English, Evelin Trejo is the eldest of five children, several of whom had health issues. Trejo was in and out of the hospital with kidney problems throughout her childhood, and her youngest brother was diagnosed with neurofibromatosis.
His genetic disorder meant that their mother often spent more time in the hospital than at home. It also meant that Trejo, who spoke English, served as her mother's translator and became fluent in medical jargon by the age of 11.
"Never, in all our visits, did I see a member of the various medical teams who looked like us," Trejo said.
By middle school she knew she wanted to work in health care to fill that gap, but first she had to graduate. This was no simple task — Trejo had been diagnosed with multiple learning disorders and was barely able to read when she entered high school.
"But I was desperate to learn," she said. "As a little girl I saw how hard my mom worked, and the disparities we had to overcome and the poverty we lived in, and I knew I had to overcome it. And that meant being able to read."
Above and Beyond
She did everything she could to make that happen — homeschooling with Hooked on Phonics, joining a six-hour-a-day, six-day-a-week summer school program, enrolling in one-on-one tutoring sessions at school.
She went on to double major in biology and public health at San Francisco State University after transferring from City College of San Francisco.
Determined to work in a hospital to help families like her own, Trejo knew her next steps would lead to USF.
"The MPH-MSBH program gave me exactly the skills I needed to accomplish what I wanted," she said. "Professor Kelly L'Engle guided me through the processes of the work I'm doing today. In my classes I learned the skills and tools I'd need to create research methods decks and write grants. USF prepared me to do my job."
Community Calling
That job evolved into a clinical research coordinator position at the UCSF's location at Zuckerberg San Francisco General Hospital — the very place she had navigated as a child, translating her brother's condition for her mother.
At San Francisco General, Trejo has become a translator on a larger scale — she demystifies health care for an entire community. She's built a research program for hematology and oncology; ensured that the Latino population has access to cancer health care, screenings, and clinical trials; built and maintained a cancer survivorship program; and gone door-to-door to recruit plasma donors for COVID patients.
That last task proved difficult, because the Latino community, many of whom are undocumented, hesitated to participate in an official program for fear of deportation.
"But I knew those fears intimately," Trejo said. "They were my mother's fears, my extended family's fears. I was able to connect with those patients. And mostly, they chose to participate."
For her work, Trejo in August received the UCSF SPIRIT of DOM (Staff Professionalism, Inspiration, Responsibility, Integrity, and Teamwork of the Department of Medicine) award.
Her next step: earning a PhD in behavioral epidemiology.
"In high school, I wasn't sure if I'd be able to go to community college," Trejo said. "Now, I'm certain I'll earn my doctorate."
Image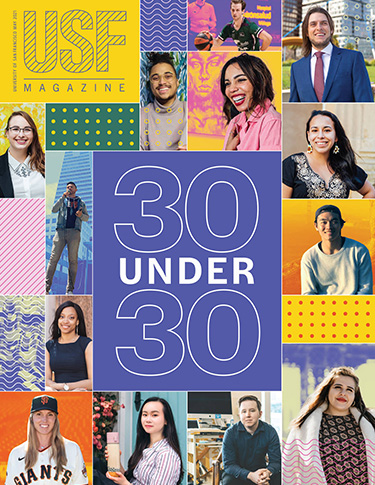 Featured in USF Magazine
This USF News story was published in USF Magazine, where you can find feature stories about university life, alumni Class Notes, and information about events at USF.