Engaged Learning
Education That Reflects on Being Queer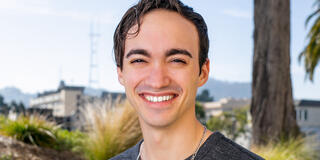 Tyler Burgart is pursuing the Master's in Human Rights Education program at USF. The program, he believes, was perfect for him after earning a Bachelor's degree in Psychology from Chapman University in 2018.
"Being part of the queer community, I've always had a passion for human rights, especially queer rights," he said. "I wanted to be in education that reflects on being queer, and this program goes hand in hand with what I wanted to do." He also works as a substitute teacher with the San Francisco Unified School District and will be working as an elementary school educator at Head Royce School. He believes that changing how queer education is implemented begins in the classroom.
"There is a misconception that queer education focuses only on sex or sexuality. But queer education also looks at queer theory. We have rights and boundaries that you can use to teach students about healthy relationships," he explained. Tyler's thesis looks at the gaps in the literature on sex education and queer involvement.
"Taking a class with Dr. David Donahue was especially influential in forming my educational philosophy," Tyler said. "The environment is much more nurturing and understanding than I expected." He believes that students should see their own identity and culture reflected in their education and an opportunity to view their teachers as people who are there to support them. In his research, he examined the efficacy of the current sex education program by talking to queer students and their experiences. It also showed him what was beneficial and what changes could be implemented going forward.
Tyler hopes to build on the work done by other scholars like Michele Foucault and Judith Butler. "We all have a sexuality and a gender. How those two identities intersect is crucial for us to learn in our current social and political climate. The point of education is to make better citizens."