Diversity
Dr. Angela Banks awarded the Song Brown grant to increase education opportunities to ethnic minorities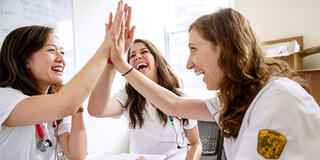 Angela Banks, Professor at the School of Nursing and Health Professions, received a $384,000 grant from the Office of State Health Planning and Development. The University of San Francisco Song Brown RN Program strives to increase education opportunities for ethnic minorities, such as Hispanic/Latinos, underrepresented in the nursing field. This grant supports USF's partnership with Immaculate Conception Academy to identify potential Hispanic/Latino nursing students, and the training and retention activities of the nursing program." Dr. Banks has received this award for the fifth time! "I am thrilled and our BSN students will be as well when they receive the scholarship awards" said Dr. Banks.
"I am deeply grateful to be a recipient of the Song Brown scholarship. To me, being a Song Brown scholar honors my family's courageous history and my parents' sacrifices of immigrating here from Vietnam without parents when they were young adolescents. I am the living embodiment of their sacrifices, lessons and love, and I am overjoyed to join a resilient community of nurse mentors and leaders and help expand the discussion of representation in nursing and healthcare. This scholarship has been a tremendous financial aid to my family and I as well because my mother had a stroke before I went to nursing school; as a result, she is now on disability and can no longer work. This opportunity means so much, and I express my highest gratitude to Dr. Banks for being the greatest role model of an advocate for us nursing students."
"Dr. Banks' commitment to diversify the nursing profession and ensure our students thrive is noticeable. She works tirelessly to provide scholarships, mentorship opportunities, and academic support as needed to our students," said Interim Dean Pearce.
Congratulations to Dr. Banks. We are grateful for her commitment to our students.