Passion for Justice
Students Use Design to Make a Difference
They guide St. Anthony's guests to social services in the Tenderloin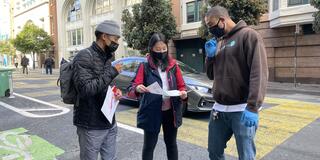 The St. Anthony Foundation in San Francisco's Tenderloin neighborhood feeds more than 1,000 people each day. It also offers a health clinic, a clothing program, a technology center, and job training — in several buildings across its city campus.
The challenge: How to show St. Anthony's guests all the services available to them.
The solution: Enlist USF Professor Rachel Beth Egenhoefer and her Design Activism class.
At the request of the St. Anthony Foundation, Egenhoefer's class last fall made it easier for people entering St. Anthony's to know their options — and where to find them. The students designed signs, floor stickers, brochures, informational material for elevators, and more.  The materials will be installed in St. Anthony's facilities.
A Real-World Design Firm
Egenhoefer's goal with the class, she said, is to enable her students to use what they learn to make a positive impact in the city. In 2019, some of her students worked with a nonprofit to advocate against increases in MUNI fares that would hurt workers and their families.
Typically, the Design Activism class works with several nonprofits each semester. The project with St. Anthony's was the first time the whole class of 12 students focused on just one organization.
"Essentially we operated as a small design firm," Egenhoefer said. "It was a real-world experience for the students. There are plenty of firms out there with a dozen people working on one project."
Getting to Know the Clients
My Nguyen '21, a design major and computer science minor, said she enrolled in the class to meet her community engagement requirement while working on a design project.
Though Nguyen has done professional design work during internships and in her campus job at the Priscilla A. Scotlan Career Services Center, the Design Activism class was different because she got to do on-site research.
Most of her previous work was fairly clear-cut, she said. She'd create posters or web graphics to promote a given sale or event. But with St. Anthony's, it was trickier figuring out how to make a better experience for guests.
The class took several trips to the nonprofit so they could see the environment. They also interviewed guests. Did they know about the other services St. Anthony's offers? Did they have trouble navigating the buildings? Did they notice the existing signs, and were they helpful?
With this information, Nguyen and her classmates developed new navigation for St. Anthony's. Tasks were split among groups. Nguyen's group worked on information that would be put on elevator doors. At the end of the semester, the students exhibited their work at USF's XARTs gallery.
"It was fulfilling to use our skills to help a cause," Nguyen said.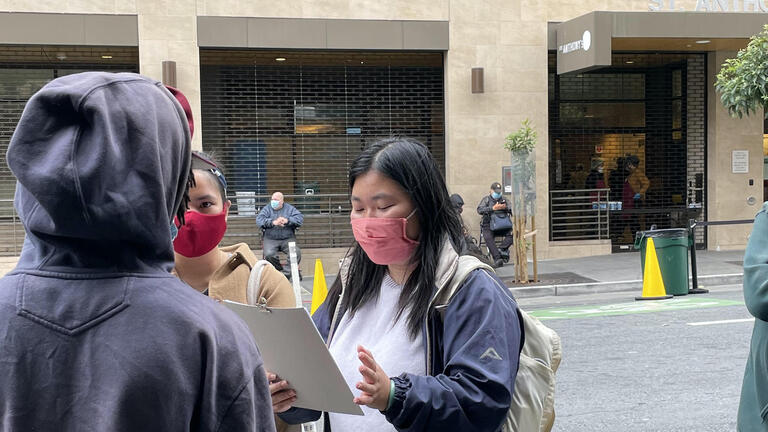 Image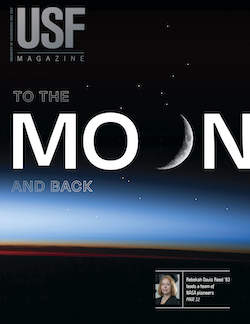 Featured in USF Magazine
This USF News story was published in USF Magazine, where you can find feature stories about university life, alumni Class Notes, and information about events at USF.