Engaged Learning
A Day at the Capitol
Students Spotlight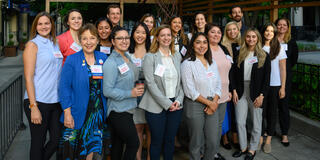 Embracing their role as the next generation of nursing leaders, more than 20 entry-level MSN students from University of San Francisco's Hilltop campus attended RN Day 2019, an educational conference hosted by the American Nurses Association of California. Designed to provide nurses and nursing students with the tools they need to effectively participate in California's legislative process, the students took the initiative to meet with their district legislators to discuss their passion for several current bills.

The students soon discovered the power of sharing first-hand stories at the Capitol. Representatives from all meetings appreciated hearing the students' accounts from the frontline of healthcare, further solidifying the importance of nurses as active participants in the legislative process.

These meetings were recapped in the Summer 2019 issue of The Nursing Voice, ANA California's quarterly publication. Click here to read the full article starting on page 21.