A Conversation with Professor Deepika Goyal, Ph.D., MS, FNP-C
Dean Eileen Fry-Bowers, conducted a conversation with Professor Goyal to capture her professional experience and journey.
Image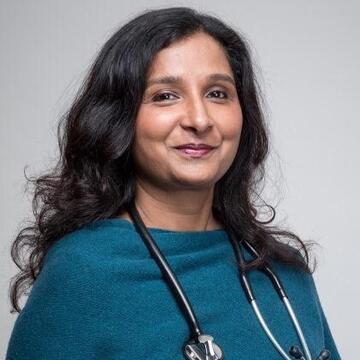 Professor Goyal shared that her pathway to becoming a nurse practitioner felt like "a long winding way." She moved to the United States at 16, right after high school in England. Without much guidance, she joined a six-month "Medical Assistant Program." She worked as a medical assistant in a clinic and started her professional journey. Experiencing the role and responsibilities of the nurse practitioners in the clinic, she gained interest in their position. To become a nurse practitioner, she needed to go to nursing school. She first completed an associate degree in nursing program, continued with an RN to BSN program, pursued a master's in nursing/Family Nurse Practitioner degree, and finally, a Ph.D., all within ten years!
As an FNP, Professor Goyal worked in an OB-GYN clinic full-time and took an opportunity to pursue her Ph.D. through a Betty Irene Moore scholarship. She volunteered at the RotaCare Clinic in Mountain View during her Ph.D program to keep her clinical skills. The scholarship required her to teach full-time after completing the program for at least three years in the Bay Area. While teaching full-time, she has always maintained a clinical practice, at least in part-time.
As a nurse practitioner, Professor Goyal has focused primarily on women's health but has experience in occupational health, urgent care, pain management, and geriatric health. She took different positions to learn new skills and to find the best fit. In 2017, she joined Santa Clara Valley Medical Center working in the outpatient OB-GYN clinic, and has worked there part-time for the past six years!
For Professor Goyal, the most challenging aspect of a nurse practitioner role, particularly around women's health, was highlighted during the COVID-19 pandemic. Patients had to put routine healthcare needs on hold, and as a result of that, patients are coming in with more issues.
Professor Goyal shared that her teaching experience through all levels of nursing education (BSN, MS, DNP) has given her an excellent bird's eye view of all the different skills and how all levels of nurses have roles and work together as a team.
Professor Goyal's passion is teaching research classes. Research can be stimulating, and she likes to demonstrate how research can make a difference in patient outcomes. Students can learn the whole process, from a research idea to analysis, implementation/intervention, and evaluation. It's a scientific method, whether you are conducting qualitative or quantitative research, there is a method to it. She acknowledges that beginning research classes are challenging. Students have to learn a new language, but in no time, some students have joined her research and even become co-authors on the paper!
Professor Goyal's first experience with research was during her master's program. She was reading an article, "The Lived Experience of Postpartum Depression" by Dr. Cheryl Beck, for a class and had to do a primary research project. This article gave her the idea of looking at postpartum depression in Asian Indian women. She had experienced postpartum depression several years earlier with her first child,  without knowing it until she read the article. She found limited research that included Asian Americans in the United States, so that's where her research journey started. She conducted a small study with 55 women who answered a depression screening questionnaire while waiting at the OB-GYN office. Her research was published, even though the reviewers noted it was a small sample. Then during her Ph.D., the dissertation chair guided Professor Goyal to focus on sleep and depression.
Today she has more than 45 papers diving into the Asian American population. She has partnered with a Medical Foundation researchers panel and looked at medical records to see diagnosis rates of depression. She now had self-reported and diagnosis rates and uncovered a mismatch, and I wanted to know why? She led a qualitative series of studies trying to find out what Asian Americans culturally thought about depression, who they would tell if they had the symptoms, and whether they would access treatment.
Professor Goyal recently transitioned into looking at paternal depression but now faces the difficulties of recruiting Asian Americans. She is looking at depression, stress, anxiety, and then discrimination instances of direct online or indirect online discrimination. Next step, conduct a qualitative study.
We are thrilled to have Professor Goyal at USF and take advantage of her vast experience and disposition to work and educate our students!