Alumni
Alumnus Named Dean of Students at UC Santa Cruz
International & Multicultural Education Alumnus Named Dean of Students and Associate Vice Chancellor for Student Development and Engagement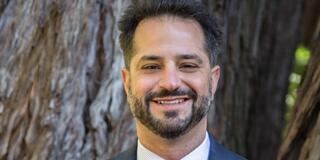 Garrett Naiman EdD '16 has been named Dean of Students and Associate Vice Chancellor for Student Development and Engagement at UC Santa Cruz. Naiman earned his EdD in International & Multicultural Education at USF and recently spoke with the School of Education about his time at USF.
How did your experience in the International & Multicultural Education (IME) program prepare you for your role at UC Santa Cruz?
I am extremely grateful for my time in IME. The IME program and the USF School of Education prepared my for my new role at UCSC through my experiences both in and out of the classroom. My classes were facilitated by some of the most inspiring and talented professors in the country, and I was blessed to participate in meaningful dialogues with fellow students about issues of equity, social justice and human rights. I learned so much from the faculty through their instruction and through the one-on-one advising I received.

I feel incredibly fortunate that I was assigned Dr. Emma Fuentes as my advisor when I first matriculated to the program. I worked closely with her throughout my time in the program (she also served as my dissertation chair) and she was (and still is) someone I can turn to for encouragement and mentorship. I was also fortunate to share the classroom with some of the most passionate, dedicated and amazing educators and people I have ever met.

IME is a unique learning environment. It is as much a community as it is an academic program. I left the program with new knowledge, and inspiration for how to apply that learning in my work and life. I also came away with lifelong friends that I know I can call on for support while learning my new role (I already called up several of them for advice and support while I was going through the interview process) and throughout my journey.

What inspired you to join the UC Santa Cruz (UCSC) community, and what are you hoping to accomplish in this role?
I am drawn to the position at UCSC because it touches seemingly all aspects of student life, and would enable me to operate daily in the myriad of student spaces that exist on campus. I was inspired to join the UCSC community because of the high level of student engagement on campus and around social issues, and because I know there are many staff members there (including a couple of other IME graduates) who care deeply about issues of access and equity in education. I hope to join them in working toward a healthy and more socially just campus environment.

Anything else you want readers to know?
I am blessed by the presence of so many who have supported me on my journey. I do not travel this path alone. I feel so much gratitude for the love, support and wisdom I have received from my family, friends, teachers, mentors and colleagues along the way.
Want to learn more about the International & Multicultural Education EdD program? Request information