Equipped to Lead and Succeed
Alumna Fights for Health Justice
Selenne Alatorre MPH '18 addresses childhood obesity, health disparities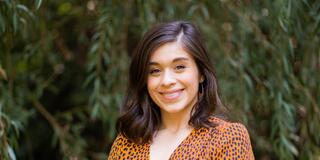 As a first-generation Latina, daughter of immigrant parents, my goal has always been to give back to communities similar to mine.
I did not know exactly how I would accomplish my goal, but it has always been front and center. As an undergraduate student, I explored different majors until health topics felt like the right path. In my journey, I learned of the vast health disparities that were apparent in communities across the country. I saw health inequities that affected my own family. I felt a duty to address such vital issues through a public health career.
While the need to address health disparities was personal for me, I also realized I needed to build the skills to intentionally and efficiently serve communities most in need. I wanted a program that aligned with my values and focused on addressing disparities systematically and dismantling social injustices with humility and grace. USF provided the opportunity to do just that.
In 2016, I began the master of public health (MPH) program at the USF Sacramento location. During the two years I attended USF, I gained invaluable experience. My program equipped me with skills and knowledge to address critical health issues while providing real-life experience. I even had the opportunity to travel to Costa Rica to work on global health issues and to Washington, D.C. for a fellowship with the Federal Department of Health and Human Services.
I am most grateful for the professional opportunities my degree provided after graduation. I formed relationships and developed a network of mentors that continue to guide me. I currently work as a research project manager at Boston University, where I lead nutrition efforts to address childhood obesity rates state-wide. As I build my career, I am proud to be an example for first-generation students who may not feel like they have what it takes to pursue a graduate degree. I can relate to those fears and doubts. However, I can attest that my education has opened possibilities to lead and serve in a meaningful way.