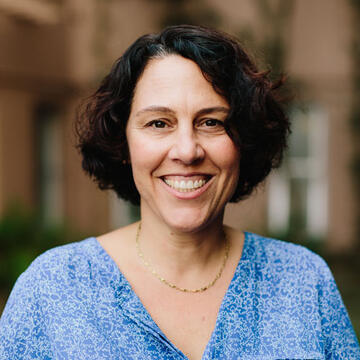 Sarah Capitelli
Associate Professor, Teacher Education
Associate Dean
Department Chair
Full-Time Faculty
Biography
Sarah Capitelli came to USF from Stanford where she completed her PhD in Educational Linguistics. Before her work at Stanford, Dr. Capitelli taught elementary school for seven years, two in Venezuela and five in East Oakland in a Spanish-bilingual classroom. She is particularly interested in better understanding and improving conditions for learning and teaching in linguistically segregated schools.
Research Areas
Oral language development of English Language learners
Literacy development in English for bilingual children
Education
PhD., Education with specialization in Educational Linguistics, Stanford University, Stanford, CA
Selected Publications
Valdes, G., Capitelli, S., & Alvarez, L. (2010). Latino children learning English. Steps in the Journey. New York, NY: Teachers College Press.
Hatch, T. with Eiler White, M., Raley, J., Austin, K., Capitelli, S., & Faigenbaum, D. (2006). Into The Classroom: Developing the Scholarship of Teaching and Learning. San Francisco: Jossey-Bass.
Capitelli, S. (2005). Finding Myself in My Inquiry: A Teacher's Story. In L. Friedrich, T. Malarkey, E. Radin Simons, C. Tateishi, & M. Williams (Eds.), Working Toward Equity: Writings and Resourrces from the Teacher Research Collaborative. Berkeley, CA: National Writing Project.