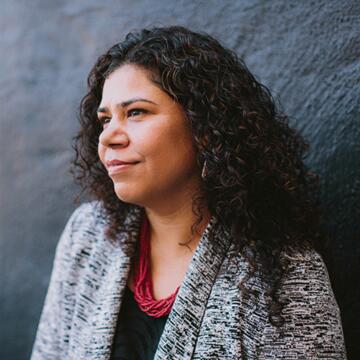 Rosa Jiménez
Associate Professor, International and Multicultural Education
Biography
Dr. Rosa M. Jiménez is an Associate Professor in the International and Multicultural Education Department at the University of San Francisco. Her research examines K-12 classroom pedagogies and theoretical principles necessary for conceptualizing and enacting critical language education and culturally responsive learning environments, especially with Latina/o and immigrant student populations. Dr. Jiménez has conducted classroom-based research in several K-12 contexts including the California Central Valley, Los Angeles, Arizona, and the San Francisco Bay Area. Her research stems from her life experiences as a daughter of working-class Mexican immigrants and from her work experiences as a social studies teacher of bilingual immigrant youth. Her research has been supported by the Spencer Foundation and the National Council of Teachers of English Research Foundation/Cultivating New Voices. Dr. Jiménez has over twenty years of experience working with K-12 public schools as a bilingual social studies teacher, literacy coach, and educational researcher.
Research Areas
Critical language education
Critical pedagogies & Ethnic/Cultural Studies
K-12 Education of Latina/o immigrant youth & "English learners"
Qualitative Research Methodologies
Education
PhD, Urban Schooling, University of California, Los Angeles (UCLA)
MA, Latin American Studies, University of California, Los Angeles (UCLA)
Single Subject Teaching Credential (Social Studies/BCLAD), California State University, Dominguez Hills
BA, U.S. History and Spanish, University of California, Davis
Prior Experience
Assistant Professor, Arizona State University
Awards & Distinctions
2014-2016 Postdoctoral Fellow, National Academy of Education/Spencer Foundation
2012-2014 Cultivating New Voices Fellow, National Council of Teachers of English (NCTE)
2014 Faculty Fellow, American Association of Hispanics in Higher Education (AAHHE)/Ford Foundation
Selected Publications
Jiménez, R. M. (2022). Latina/o autoethnographies of migration as counterstories. Gist, C. D. & Bristol T. J. (Eds). The Handbook of Research on Teachers of Color and Indigenous Teachers. American Educational Research (AERA) Publishing.
Jiménez, R.M & Okhremtchouk, I.S. (Eds.) (May 2021) Special Issue: Education Stakeholders Striving for Equity and Culturally Relevant Approaches. Taboo Journal of Culture and Education, 20(2), 4-162.
Jiménez, R. M. (2020). "Mi clase es su clase" (My class is your class): A Latina Teacher's Culturally Sustaining Approach to Teacher Leadership. Journal of Education Human Resources (JEHR) [Formerly Journal of School Public Relations (JSPR), Winter, 38(1), 106-138. 
Okhremtchouk, I.S., Jiménez, R.M. & Levine, J. (Eds.) (2020). Special Issue Series: Leadership for Social Justice and Equity in Educational and Community Contexts. Journal of Education Human Resources (formerly Journal of School Public Relations), Vol. 38(1) Winter; Vol. 38(2) Spring; Vol 38 (4) Fall.
Jiménez, R. M. (2019 Online; 2020 In print). Community cultural wealth pedagogies: Cultivating autoethnographic counternarratives and migration capital. American Educational Research Journal (AERJ), 57(2), 775-807.
Jiménez, R. M. (2016). "Nuestro camino es más largo" (Our journey is much longer): A testimonio of immigrant life in the Central Valley and the road towards the professoriate. [In Fuentes, E. H. & Pérez, M. A. (Eds). Special Issue: Testimonio as radical storytelling and creative resistance. Association of Mexican American Educators Journal (AMAE), 10(2), 65-79.
Okhremtchouk, I. & Jiménez, R. M. (2013). "I Live in a Curled World…" Stories from immigrant students and their teacher. In Lester J. N., & Gabriel R. (Ed.) Performances of Research Critical Issues in K-12 Education.New York: Peter Lang.