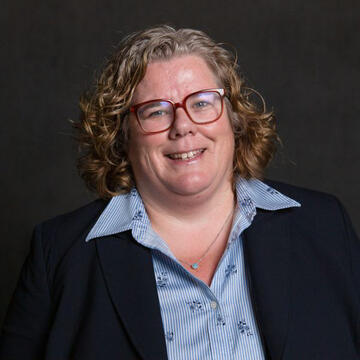 Jane Bleasdale
Assistant Professor, Program Coordinator, Catholic Educational Leadership
Department Chair
Full-Time Faculty
Biography
Professor Bleasdale is an assistant professor and department chair of leadership studies in the School of Education. Born and raised in England by parents who were both educators, she knew at an early age that teaching was her vocation. She has lived and taught in the UK, the Bahamas, and now the US, and her career has been primarily in K-12 education, serving as a high school administrator focusing on equity and inclusion through personnel and student development.
Professor Bleasdale started studying the higher education sector a decade ago and joined the faculty at USF in 2016. Her original research focused on equity and inclusion in Catholic Jesuit high schools, and specifically the experience of Black, Latino and LGBTQ students. She has recently conducted research on equity and inclusion in public schools, social and emotional wellness of students, and critical feminist leadership. Her research focuses on the experience and impact of women leaders with intersectional identities. She is the primary investigator on a participatory action research project at the University of San Francisco collaborating, with 10 doctoral students on a new paradigm for equitable leadership focused on critical feminist perspectives.
Expertise
Equity and Inclusion K - 12 Leadership
Organizational Leadership
Leadership Theories ( focus on Critical Feminism)
Catholic Educational Leadership ( focus on equity and inclusion BIPOC , LGBTQIA+ )
Research Areas
Equity and inclusion
Educational Leadership - personnel
Creating communities of inclusion
The experience of underrepresented students and faculty in Catholic education
LGBTQ experience in K-12
Appointments
Chair Department of Leadership Studies, School of Education
Program Coordinator Catholic Educational Leadership
Chair, Membership Engagement Committee, USFFA
Chair AERA SIG Catholic Educational Research
Program Chair AERA SIG Catholic Educational Research
Executive Board member AERA SIG Queer Studies
Education
Fordham University, PhD Education Leadership and Policy, 2014
Seton Hall University, MA Administration and Supervision, 2003
Exeter University, P.G.C.E.,1993
St. Mary's College, University of Surrey, BA in English and Theology/Religious Studies 1992
Prior Experience
Adjunct Professor, Fordham University
Adjunct Professor, Seton Hall University
Educational Researcher and Consultant
Director of Faculty Formation, Saint Peter's Prep, NJ
Awards & Distinctions
USF Sarlo Prize for Excellence in Teaching — Recipient 2021

Finalist, Outstanding Doctoral Research Award. AERA SIG Catholic Educational Research 2017
Selected Publications
Bleasdale, Jane E. Moving from Tolerance to Inclusion through Critical Collaboration. Journal of Education Human Resources Fall 2020, Vol. 38, No. 4, pp. 453-468
Bleasdale JE, Peterson MC, Nidich S. Effect of Meditation on Social/Emotional Well-Being in a High-Performing High School. Professional School Counseling. January 2019.
Bleasdale, Jane.E, and Sullivan Julie A. (2020) Social Conscience and Responsibility Teaching the Common Good in Secondary Education (Teaching Ethics across the American Educational Experience) Roman and Littlefield.