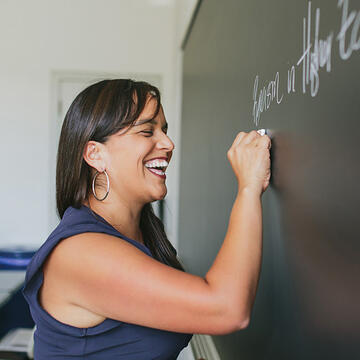 Genevieve Negrón-Gonzales
Associate Professor, Leadership Studies
Biography
Dr. Genevieve Negrón-Gonzales is an interdisciplinary scholar of immigration and education. Her academic, activist and community work focuses on the ways undocumented young people are changing the political and legislative terrain around "illegality" and belonging in this country. Her work lies at the intersection of education, immigration, and social movements. She is the co-author of Encountering Poverty: Thinking and Acting in an Unequal World (2016, University of California Press) and co-editor of We Are Not DREAMers: Undocumented Scholars Theorize Undocumented Life in the United States (2020, Duke University Press).
Research Areas
Political activism among undocumented migrant students
Immigrant students and higher education
California racial politics and Latino immigrant communities.
Education
M.A. & Ph.D. in Social and Cultural Studies in Education, University of California at Berkeley
Selected Publications
Negrón-Gonzales, G., Abrego, L., & Coll, K. (Eds.) (2016). Special Issue: Complicating the politics of deservingness: A critical look at Latina/o undocumented migrant youth. Association of Mexican American Educators Journal, 9(3).
Negrón-Gonzales, G. (2017). Political possibilities: Lessons from the undocumented youth Movement for resistance to the Trump Administration. Anthropology and Education Quarterly. In press.
Negrón-Gonzales, G. (2017). Constrained inclusion: Access and persistence among undocumented community college students in California's Central Valley. Journal of Hispanic Higher Education, 16(2), 105-122.
Negrón-Gonzales, G., Abrego, L., & Coll, K. (2016). Immigrant Latina/o youth and illegality: Challenging the politics of deservingness. Association of Mexican American Educators Journal, 9(3). 7-10.
Gonzales, R. G., Heredia, L. L. & Negrón-Gonzales, G. (2015). Untangling Plyler's legacy: Undocumented students, schools, and citizenship. Harvard Educational Review, 85(3), 318-341.
Gonzales, R. G., Heredia, L. L., & Negrón-Gonzales, G. (2015). Untangling Plyler's Legacy: Undocumented Students, Schools, and Citizenship. Harvard Education Review. In press
Negrón-Gonzales, G. (2015). Lift Every Voice: Institutional Climate and the Experiences of Undocumented Students at Jesuit Universities. Jesuit Higher Education, 4(1).
Negrón-Gonzales, G. (2015). Undocumented Youth Activism as Counter-Spectacle: Civil Disobedience and Testimonio in the Battle around Immigration Reform. Aztlan: A Journal of Chicano Studies, 40(1), 87-112
Negrón-Gonzales, G. (2014). Undocumented, unafraid and unapologetic: Re-articulatory practices and migrant youth "illegality". Latino Studies, 12(2), 259-278
Negrón-Gonzales, G. (2014). The Power of the Pen: Writing Mentorship and Chicana/o MA Students. Journal of Latinos and Education, 13(1), 62-70
Negrón-Gonzales, G. (2013). Navigating "illegality": Undocumented youth & oppositional consciousness. Children and Youth Services Review, 35(8), 1284-1290
Roy, A, Negrón-Gonzales, G., Opoku-Agyemang, K. & Talwalker, C. (2015). Encountering Poverty: A Guide To Thinking and Acting Against Inequality. University of California Press. In press
Gonzales, R. & Heredia, L. & Negron-Gonzales, G. (2013). "Challenging the Transition to New "Illegalities": Undocumented Young Adults and the Shifting Boundaries of Inclusion" in Constructing "Illegality": Immigrant Experiences, Critiques, and Resistance, edited by Cecilia Menjivar and Daniel Kanstroom
"The "Illegal" Immigrant Game & Our Collective Future," published on Nuestras Voces Latinas