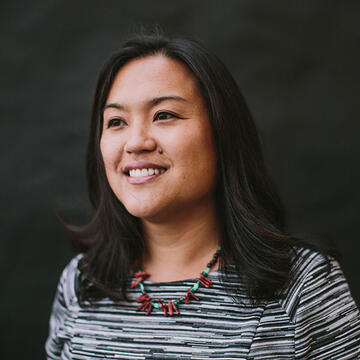 Danfeng Soto-Vigil Koon
Co-Director, Transformative School Leadership Program, Assistant Professor, Leadership Studies
Biography
Danfeng Soto-Vigil Koon is an Assistant Professor in the Leadership Studies department in the School of Education and the Faculty Co-Director of the Transformative School Leadership Program. Her research focuses on educational law and policy as a site of contestation and explores the ways that education law and policy further or impede efforts to create a more just society. Her passion and commitment to public education are informed by her work as an educator, lawyer, and organizer. Her courses provide educators and aspiring leaders with an opportunity to better understand the political and economic foundations of the educational systems they work within and against. Towards this goal, she teaches courses in Social Critical Theoretical Foundations, Advocacy and Policy, Pressing Urban Issues, Education Law, Organizational Systems, and Critical Policy Analysis.
Research Areas
Education law and policy
Political economy of K-12 education and education reform
Civil rights and education
K-12 school and district leadership
Appointments
Co-Chair, Center for Humanizing Education and Research Steering Committee
Co-Chair, School of Education Faculty Association
Education
PhD, University of California, Berkeley
JD, University of Maryland School of Law
EdM, Harvard Graduate School of Education
BA, Economics and Biology, University of California, Berkeley
Awards & Distinctions
National Academy of Education/ Spencer Dissertation Fellowship, 2015 - 2016

Eugene Cota Robles Fellow, University of California, Berkeley, 2009 - 2011

DLA Piper Scholar, University of Maryland Law School 2006 - 2009
Selected Publications
Koon, D. S.-V. (2022). Critical education policy network analysis: Theoretical elaborations and methodological implications. International Journal of Educational Research. Special Issue: Stephen Ball.

Koon, D. S.-V. (2021). Why justice matters. In Winn, M. & Winn, L. (Eds.) Transforming Teaching and Learning Through Restorative Justice. Harvard Education Press: Cambridge, MA.

Koon, D. S.-V. (2020). Education Policy Networks: Co-optation, Coordination & Commodification of the School-to-Prison Pipeline Critique. American Educational Research Journal, 57 (1), 371 – 410.

Koon, D. (2013). Exclusionary School Discipline: An Issue Brief and Review of the Literature. Chief Justice Earl Warren Institute on Law and Social Policy, Berkeley Law.

Koon, D. (2010). Cal. Gov't Code §11135: A Challenge to Contemporary State-funded Discrimination. Stanford Journal of Civil Rights & Civil Liberties, 7(2): 239-263.