Passion for Justice
Welcoming Afghan Refugees
USF Professor leads efforts to support Afghan refugees arriving in the Bay Area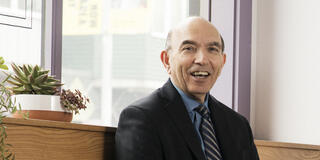 Dr. Popal, professor and coordinator of the master's in Teaching English to Speakers of Other Languages (TESOL) program at USF's School of Education (SOE), escaped Afghanistan in 1980. Now, he is determined to do his part to help ease the suffering of incoming Afghan refugees who've lost everything.
Popal shared a favorite South American folktale oft-repeated by Dr. Shabnam Koirala-Azad, dean of the School of Education, about a hummingbird caught in a massive fire. Unlike all the other animals rushing away from the fire, the bird kept returning to the scene with what water it could carry. The other animals asked, "what are you doing?" "I'm doing my part to extinguish the fire," the hummingbird replied.
"That is what I am trying to do," Popal said. "We cannot change the situation. It's an enormous humanitarian disaster. You will not be able to take care of everybody, but at least we have started something in the Bay Area."
By starting something, Popal means starting a care package program that includes everything from day-to-day essentials to kitchen basics.
"When families receive care packages, they can take care of themselves. What we deliver may not be enough, but it's a way to welcome them. It's a way to show them that they matter, and we care."
He is grateful for his Afghan Muslim community and the American society—young and old, student, engineer, or doctor, has never failed him when he's asked for help.
"Everybody showed up to make a difference. I think the beauty of this country is that when it's called upon, they respond positively and in force. When it comes to helping others, we do it regardless of who we are, regardless of political affiliation, we just go there as an American and deal with it, and that is the way I see it right now."
Government agencies, community organizations, and resettlement agencies are joined in this effort. Still, the Bay Area local communities have lent support to Popal through the Noor Islamic and Cultural Community Center in Concord which he founded and serves as president. The generosity from all walks of life gives him hope, even while his family members remain, unable to escape. Volunteers comprise current and former USF students, church and mosque members, and people from all backgrounds.
"When Afghan refugees come here, after extensive vetting and travel, they are tired, exhausted, they are scared, they are hopeless, and they are homeless. This is the least we can do. If each one of us can do our part together, collectively, we will be able to make a difference."
How you can do your part, like the hummingbird, like Popal? Care package registries are available through Amazon, Target, and the like. Anyone who is inspired to do their part can—no matter how small.
"Technology makes it easier to reach out and touch the lives of these people."
To donate and find more ways to do your part, please visit this resource.