Engaged Learning
Students Blossom in El Jardín
USF community partners with non-profit Ayudando Latinos A Soñar to provide comprehensive services for farmworker and migrant communities in Half Moon Bay.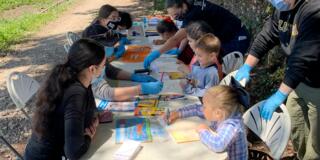 Beginning in summer 2020, USF graduate students Azucena Ramos MA '22 and Mauricio Diaz de Leon '13, MA '16, EdD '23 worked to address racial and economic inequities within the farmworker population in Half Moon Bay, in conjunction with Belinda Hernandez-Arriaga, director of the Latino-centered non-profit Ayudando Latinos A Soñar (ALAS) and USF assistant professor of counseling psychology. 
Working at the direction of Jane Bleasdale, assistant professor leadership studies, through a schools, community, and society course, USF doctoral and master's students were asked how they could help vulnerable farmworker populations through the in-place structure of ALAS programming.
Ramos, Diaz de Leon, and their classmates engaged with a community-engaged learning lens and worked offering everything from snacks and tutoring to Wi-Fi access and sports activities. Lucky for the kids, Diaz de Leon is a soccer coach with a degree in kinesiology. 
USF students designed programming, collected resources, and raised close to $10,000 to fund the program's needs. Diaz de Leon, who also works at USF as the Associate Director for Justice and Outreach and Co-Chair, Working Group to Support Undocumented Students, collected new and used books from Marin to the East Bay. Other USF students gathered funds and school supplies of all sorts. Volunteers created lesson plans on donated books, and student participants were assessed by reading specialists. 
Ramos helped with volunteer orientation, program assessments, and implemented adjustments weekly to meet the needs of student participants. 
"It was something I've never done, so I was super nervous but, after talking to Jane and doing the reading, it just came naturally."
Graduate students secured in-kind donations of Chromebooks and hotspots to gift to families. In addition, meals and snacks were given to students throughout the day, providing holistic care and emphasizing play.
Participating high school students received college counseling and preparation, and younger kids explored art, sports, and music. Culturally relevant teaching practices helped student populations retain learning and positive connections to schooling.
During the pandemic, USF student-volunteers maintained contact virtually through USF University Ministry's Solidarity in Action programming, providing volunteer opportunities to the USF community at large, from alumni to undergraduates, to engage in once-a-week online tutoring through ALAS.
What initially started as a one-off summer program for a practicum class blossomed into a year-round program through the help of an Interdisciplinary Action Group Grant Program. Students, faculty, and staff worked together to secure funds to continue this vital programming. One of the lasting effects is that USF students created a relationship with the community through ALAS and will continue working on issues exacerbated by inequity.
When tasked with naming the program, the young program participants decided on "El Jardín, Deportivo y Educación," The Garden of& Education and Sports program. A garden that strives to grow strong hearts, minds, and bodies of this essential and vibrant community.
In partnership with the ALAS, El Jardín's continued supplemental programming helps provide comprehensive services with a holistic approach, in addition to many opportunities for USF students to be involved and make a positive community impact.
"I really enjoy the practical approach the School of Education and our professors have instilled," said Diaz de Leon, "because we can get stuck on the theoretical or philosophical side of it, but this is a platform that can be used to learn with, learn from, be with, and uplift the community at hand. In addition to our students being there, you could really notice and feel a strong community presence from volunteers, parents, and other organizations coming together to support El Jardín."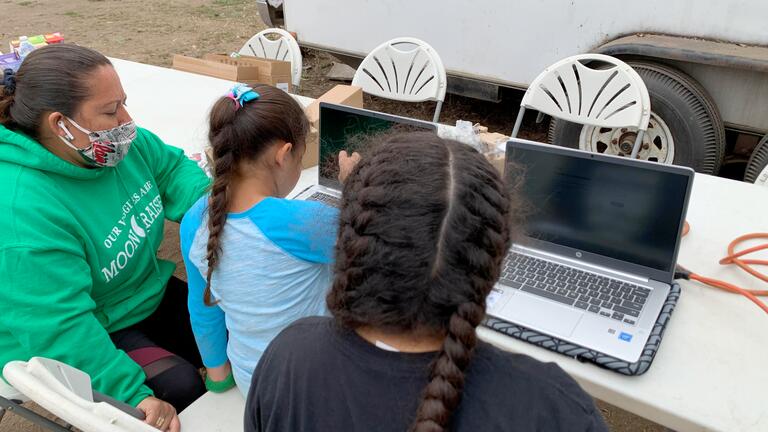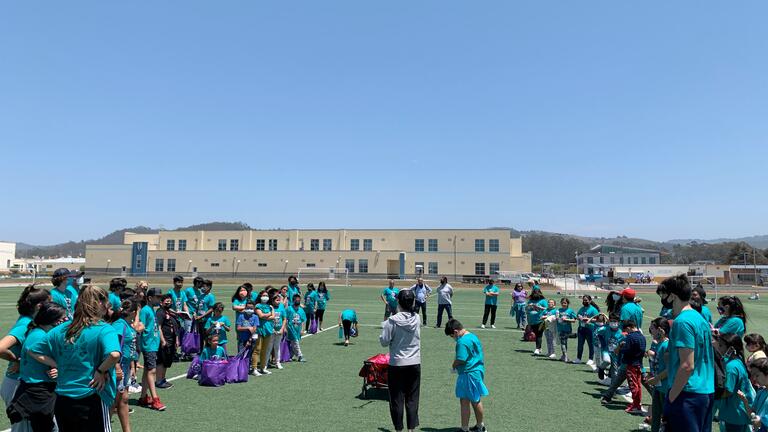 USF students, faculty and staff offer art, reading, sports, and tutoring activities for farmworker communities in Half Moon Bay
USF students, faculty and staff offer art, reading, sports, and tutoring activities for farmworker communities in Half Moon Bay.