Passion for Justice
Humanizing Education: Paulo Freire's Legacy
The School of Education's Center for Humanizing Education and Research (C-HER) hosts a two-night event celebrating Paulo Freire's centenary and evolving legacy.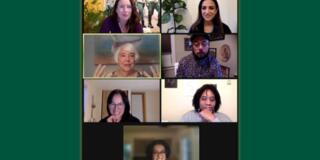 The University of San Francisco School of Education hosted a two-night celebration honoring the centenary and legacy of Paulo Freire. The events, hosted by the School of Education's Center for Humanizing Education and Research (C-HER), took place on November 9 and 10, 2021.
"Our school has always had a legacy of understanding and addressing the connection between education and justice,'' said Dean Shabnam Koirala-Azad during her welcome address. "This evening, in some ways, allows us to shine a light on this legacy." Paolo Freire's work towards justice is an intricate part of the fabric of the USF School of Education, both in his theoretical contributions and his close collaborations with several School of Education faculty emerita from the 1970s through the 1990s. 
A Brazilian educator and philosopher, Freire's book Pedagogy of the Oppressed laid the foundation of critical pedagogy. His work has inspired a movement of educators and activists to use teaching as a means to confront all forms of oppression, and seek avenues for liberatory movements that helped heal from racism, colonialism, and sexism. 
Freire visited the University of San Francisco multiple times over the years to engage with faculty and students, and the impact of his time with our community is still felt today. "The very first time I stepped onto the USF campus was in 1985 to hear Paulo Freire speak in the chapel on the hill," shares Susan Katz, professor of international and multicultural education. "Since I was then making the transition from full-time political activist to public school teacher, his words on the revolutionary power of education deeply resonated."
Many who joined this fall's events reflected on the profound influence of Freire on their identities and work as educators. The first evening's event opened with a poignant poem by Janise Powell, doctoral student in international and multicultural education with a concentration in racial justice in education. The event featured a panel discussion with filmmaker Catherine Murphy, USF School of Education Professor Emerita Alma Flor Ada, and Patrick Camangian, professor of teacher education. The conversation was moderated by Dean Shabnam Koirala Azad.
Filmmaker Catherine Murphy previewed their new film, A is for Angicos, which shares Freire's early, on-the-ground work in Northeast Brazil. Dr. Alma Flor Ada, shared beautiful reflections about her own collaborative relationship with Freire (the two co-produced a series of video conversationsabout participatory research) and from previous students about the impact of Freire and the love-of-learning his legacy inspires. Dr. Patrick Camangian shared about how Freire set the foundation for his work in humanizing education that has influenced policy changes in San Francisco Unified School District and beyond. 
The second night's event, Remembering Paulo: A Space for our Stories & Encounters, brought together USF faculty, alumni, and community members who worked with Freire. The evening provided a venue for storytelling, remembering, and laughing as participants reflected on their memories of Freire and his work. 
Our two evenings of honoring Paulo Freire touched my soul as they were filled with beautiful memories and profound moments inspiring hope for our future," shares Katz. "From hearing Alma Flor Ada speak of her dialogues with him, to watching Catherine Murphy's film documenting his worldwide influence, to listening to Patrick Camangian on how Freirean pedagogy has transformed his life work, and finally to meeting on Zoom with the many creative educators whom he influenced, beginning with [international and multicultural education] alum Peter Baird's original song. All I can say is that this was truly an event to remember." 
A recording of the first night's panel conversation can be found here.
A special thanks to Monisha Bajaj, professor of international and multicultural education, and Jazmin Gota MA '15, EdD '25 for their work in planning and supporting this two-night event.