Alumni
Becoming the Teacher That I Needed
Tonita Barajas MA '21 wanted to become the teacher she needed growing up. Now, a sixth grade teacher and graduate of USF's credential program, she's doing just that.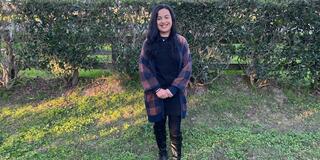 Tonita Barajas MA '21 is a sixth grade teacher. She earned her master's and multiple subjects teaching credential at USF's location in Santa Rosa. Barajas recently spoke with the USF School of Education about her journey into the field of teaching. Check out the conversation below! 
What made you decide that you wanted to become a teacher? 
I wanted to be a teacher for as long as I can remember. Throughout my entire K-12 education, I never had a teacher who looked like me or a teacher who was Hispanic/Latina; I was never really able to relate to my teachers. I want to be the teacher that I needed growing up.
What did you like best about being in the USF program in Santa Rosa?
My cohort is most definitely what I liked best about the program. Everyone was so supportive of one another. We collaborated on every project, talked about our experiences in our classrooms, and shared teaching strategies. The professors were always very supportive and easy to reach as well.
What is your teaching super power?
My super power is keeping a consistent classroom routine. It ensures that my students always know what they're supposed to do. It took some trial and error to figure out the best way to organize a routine, but it gets easier to do as I get to know my students and their varying learning styles.
What aspect of teaching required the most work or growth for you?
Figuring out how to best discipline or keep students accountable for their actions, especially with younger students. My second student teaching placement was in first grade. At times I was unsure about whether I was being too lenient or not lenient enough. Over time, however, I have learned the best ways to go about this aspect of teaching.
How has the pandemic impacted your educational and subsequent teaching experience?
I started at USF in the spring of 2020. When the pandemic hit in March, my entire program became virtual. I have always and still prefer in-person classes, so getting accustomed to 100% virtual learning, especially for a graduate program, was difficult at first. Thankfully, USF was very supportive and understanding, and I was able to successfully continue on and complete the program. Although it was difficult at times, in a way, I actually gained so much valuable knowledge/experience being a distance learning teacher and student because I learned skills that I never would have if we hadn't been in distance learning. I am much more proficient with technology, especially with online classroom tools/technology that I not only used in distance learning, but now am able to use in my in-person classroom with my sixth graders. 
How did transitioning to your teaching position as a graduate feel?
I felt very ready and prepared to start teaching in my own classroom. I was nervous but also excited.