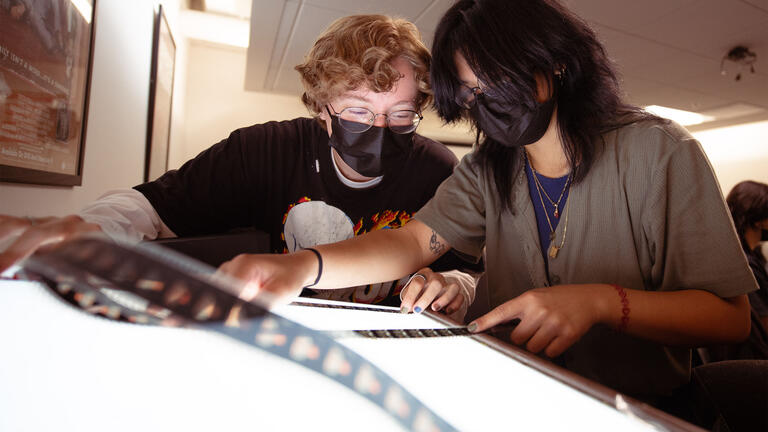 Our Film Studies minor emphasizes a creative approach to film and video production, challenging you to find your voice while constructing unique, engaging stories. With video surrounding us on screens of all shapes and sizes, the ability to produce compelling stories through film is more important now than ever before.
You'll gain hands-on experience with the latest video production equipment in classes that never exceed 14 students. Additionally, our program offers a strong emphasis on film history and film theory, giving you a better understanding of the language of cinema and how it affects society in the U.S. and all over the world.
Film Studies opened my eyes to the idea that there are so many stories being told and I want to be part of that collective storytelling with everyone else around the world.
Alexis Hazelwood Alumnus
Student Projects
Join a community of students who share your passion for film. Produce films that give voice to your generation. Whether you are interested in narrative, documentary, experimental filmmaking, or integrating video into other fields of study, our courses will help you pursue your academic goals and artistic visions.
The Media Lab
Our lab provides state-of-the-art video and audio production and editing facilities to students enrolled in production courses in the Media Studies Department.
Beyond the Classroom
You'll develop media production skills by working on media projects all over San Francisco Bay Area, in the USF media lab, in internships for non-profits and media-related companies in the bay area, or in voluntary work on campus at the San Francisco Foghorn, USFtv, and KUSF.
Image

There's this subtext of kindness in a Jesuit education that I've certainly carried on through my work as a director."
Brenna Malloy '13, Director, Television & Film
Alumni & Student Features
To view features on alumni and projects produced in Film Studies, as well as our Media Studies and journalism classes, explore our Media Studies Magazine.