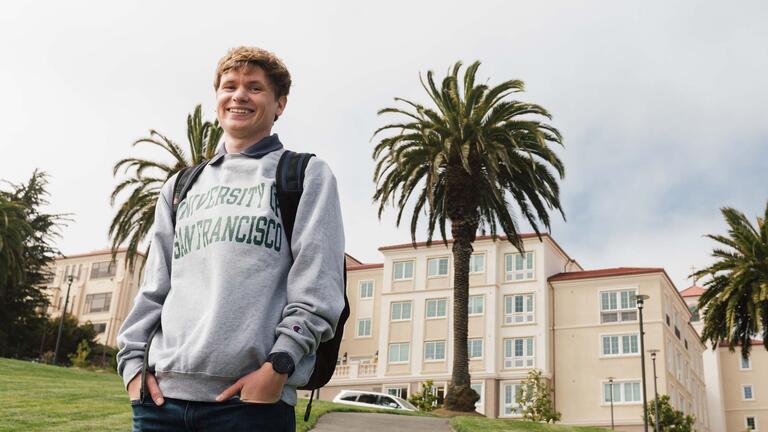 Environmental Management, MS
Our Alumni
Our graduates find work in consulting, government agencies, and the nonprofit sector, as well as in industry.
Career Paths
Kate Gazzo '14 is an ecologist working for Great Ecology, a consulting firm in Sacramento, CA that specializes in the design and implementation of large-scale ecological restorations. She was hired based on her course work in wetland ecology, wetland delineation, and water quality.

Laura Yoon '13 focuses on technical modeling and report preparation in support of CEQA, NEPA, and recent GHG legislation. She has prepared community and municipal climate action plans for multiple counties and cities within California, and advised private and public sector clients on cost-effective measures to avoid adverse impacts to air quality to climate change.

Brendan Tougher '13 MSEM/MBA was hired by Blue Earth Consultants shortly after graduating. One of the projects he has worked on is the integration of academia and the private and nonprofit sectors to better address environmental issues and initiatives, such as ocean observing and fisheries reform.

Dale Pooley '01 has been working in the private sector as an environmental consultant for ten years. He specializes in regulatory permitting and compliance, biological resource assessment, mitigation planning and monitoring, and NEPA/CEQA compliance.

Prior to her current position with Integral Consulting, Bridget DeShields '98 worked for Blasland, Bouck & Lee, Inc., a consulting firm headquartered in Syracuse, NY where she served as a vice president and principal scientist. Bridget managed a group of 40 scientists who conduct human health and ecological risk assessments, biological assessments, and restoration planning for a variety of private and public sector clients.
Public Agencies
James Parrish '14 oversees NPDES permits for wastewater treatment plants, and serves as the board coordinator and representative for the Bay Area Pollution Prevention Group. His work involves reissuing new NPDES permits and monitoring dischargers' adherence to their permits. His work also involves reviewing annual pollution prevention reports from Bay Area wastewater treatment plants to update the status of pollutants of concern entering the Bay and to formulate or update action plans for protecting the Bay.

Gil Falcone '13 focuses on the Non-Point Source / 401 Certification Program's regulatory program to protect and enhance water quality.

Dan Rompf '13 conducts regulatory inspections and manages CUPA programs for districts in San Mateo County

Jessica Range '08 manages the CEQA process for a variety of plans and projects and specializes in air quality analysis. She participated in the development of a nationally-recognized regulation requiring enhanced ventilation systems for new residential developments near high volume roadways and is currently developing an air quality improvement plan for the city and county. The Planning Department serves as the lead agency for CEQA compliance for projects in San Francisco.

Lori Marra-Christner '07 has worked for the City of Fremont as an environmental specialist since graduation. She specializes in solid waste, recycling, and organics management issues for municipal governments, commercial businesses, and residents. Working in local government provides her the opportunity to interact directly with the public.

Jeanne Wetzel Chinn '05 focuses on the protection of threatened and endangered species through CESA permitting. She also acts as a facilitator for CDFG. Jeanne is the founder and director of Being With Wolves, a California wolf education project.

Prior to his position as an environmental manager, Justin Kosta '05 was a project coordinator for Environmental Resource Management in Mexico City, Mexico where he worked in the Site Investigation and Remediation Group doing Phase I and Phase II Environmental Site Assessments and soil remediation projects throughout Latin America.

Harry Allen '04 was offered a job in U.S. EPA's Region 9 (San Francisco) Emergency Response Section as an on-scene coordinator just as he was beginning the MSEM program. He has since moved into the position of chief of the Emergency Response Section. Harry has become an EPA leader in ordering, directing, and overseeing environmental emergencies and time-critical cleanup of hazardous waste sites.

Josefa Esparragom '04 has worked on reservoir floating cover guidelines and revised waterworks standard notifications, in addition to reviewing the Los Angeles Aqueduct Filtration Plant Operations Plan.

Jim Barse '03 was formerly employed as the Stormwater Quality Protection Coordinator for the City of Alameda, where he had a storm's eye view of urban stormwater pollution issues.

Boons Baythayong '02 previously worked with the California Integrated Waste Management Board, serving as support staff in revising the Disposal Reporting System regulation, gaining experience in the rule making process, conducting workshops, and working with a range of stakeholders.
Nonprofit
Shortly after graduation, Richard Hsu '13 was hired as a fellow with Climate Corps Bay Area and is now working as the sustainability coordinator here at the University of San Francisco.

Cheryl Yemoto '05 holds primary responsibilities including regulatory compliance and web communications.

Prior to working with GreenDependent NGO, Simon Milton '03 was an assistant professor in the environmental economics and technology department at the Budapest University of Economic Sciences in Hungary.

Suzanne Gornick '00 works as the executive director of the California Environmental Dialogue (CED). The CED is an ongoing, open dialogue among California business, environmental, and government leaders about critical current environmental policy issues and long-term environmental strategies.

Christine Ellis '96 is the riverkeeper, primary spokesperson, and advocate for the protection of water quality, water quantity, and natural resources in the Waccamaw River watershed, as well as the traditional beneficial uses supported in the watershed.

As the sustainability manager, Gail Lee '93 is responsible for meeting ambitious 2020 goals to reduce emissions, water use, waste, and toxics while increasing sustainable food, green procurement, and LEED-certified buildings and operations.
Industry
In one of her main projects, Carrie Hollenbeck '13 works with different business units, providing them with detailed reports on their greenhouse gas emissions and water use, to help implement Disney's new 2020 environmental goals and targets.

Alexander Phillips '06 handles all EPA reporting and permitting, including storm water and air emissions. He runs efficiency studies and emission reduction programs for their operations and writes policies and SOP's to instill environmental compliance throughout the plant.

David Cowell '05 was previously employed as a wildlife biologist/wetland scientist with Tetra Tech EC, Inc., in Boston, MA where he performed pre-construction avian- and bat-use surveys for layout designs of wind turbines to minimize disturbances and potential mortality to bird and bat species. He also completed EIS documents and compliance monitoring under contract of the Federal Energy Regulatory Commission.

Tim DeGraff '04 is a certified professional wetland scientist. As vice president, he is now responsible for business development and marketing of the firm's services. Tim supervises over 13 biologists and manages large, complex projects involving wetland and endangered species issues.

Prior to his current position as project director, Peter Baty '01 worked for Environmental Resources Management (ERM), a global environmental consulting firm, where he advised on a wide range of M&A transactions and was routinely involved in the quantification of financial liabilities associated with contamination and operational environmental health and safety (EHS) issues.

Nadine King '01 was in environmental consulting for two years following graduation. In her previous position as an environmental risk analyst for Citizens Financial Group in Boston, MA, she assessed the environmental risk associated with properties taken as collateral for commercial real estate loans.

Nathan Metcalf '97 returned to USF to obtain a law degree after graduating from the MSEM program. He is currently practicing environmental law and water law at Hanson Bridgett, LLP in San Francisco.

As an environmental risk consultant, Mark Shirley '97 provides compliance and accreditation consultative services to Sutter's 26 acute care affiliates and eight medical foundations.

Prior to becoming an associate director at Genentech, Martha Murray '90 held a position as environmental, health and safety director for Ampac Fine Chemicals, LLC. She was active in managing strategic EHS issues with various regulatory agencies, primarily the Department of Toxic Substances Control.
SPUR To Ecodistricts To NASA: Alum Finds Continuing Support From MSEM
Elizabeth Juvera '15 considered becoming a lab researcher, but quickly decided to spend more time outdoors.